Most of us women like to own a good handbag, it is either signature or not. Carrying hand bag during party, dinner, shopping or even normal day is a must to us women.  Bringing handbags feel us secured with our important documents,  wallet, keys, make-up and other personal things that we need.
In most cases though handbags works like accessory to the clothes we wear,  we always made sure that it would fit the our get – up or the theme of the occasion we have to attend. The best handbags are those expensive one or in designer collections, they are not only functional but fashionable as well.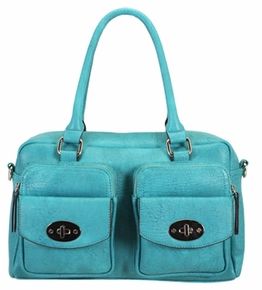 Melie Bianco Anny Boxy Top Handle Satchel Handbag – Turquoise
If you are lack of budget and want to own a designer inspired handbags and accessories you should buy  Melie Bianco hand bags, the hottest  and affordable handbags for women who want be chic and sassy.  This brand uses only faux leather material so they are nature friendly and like most handbag collections Melie Bianco has a wide range of choices according to style, sizes and color.
Bags with a short handles are called Satchel bags, which are perfect type during casual occasion or office bag. This bag can fit all your necessities and belongings. They also range on different sizes, design and color like other bags.
The boxy satchel featured above belongs to Modaqueen LA Casual collection, just adding the right adornment to two large functional front pockets  the bag will be more fashionable and trendy.
MODAQUEEN  is one of the safe and trusted online based company that sells authentic Melie Bianco handbags, all of their handbags are brand new and  has serial number for authenticity verification. Unlike most online shopping company that don't accept returns and exchange  Modaqueen accept free returns for 30 days period and exchange after 14 days period from the date of delivery. They also offer free delivery among their USA customers and ship worldwide using the Fedex or USPS Global Express.
Aside from bags Modaqueen has also a wide range of clothing, sunglasses, shoes, costumes, accessories, wallets and lingerie for sale. Visit Modaqueen to order or browse their collections for affordable prices, one more thing they ship from Los Angeles, California and processing or order takes only one day.