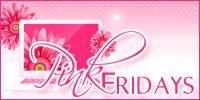 I always forgot to join this meme, so as I am blog hopping I remember about it. So I am linking this to Pink Fridays.
No matter how I resist the sale in Nong Hyup Supermarket I can't really hold it, last night after gym when I bought trays of eggs I saw that thee kinds Dove Moisture Body Wash are on sale, I was not able to look at them closely because I am in hurry Pookie bear is waiting for me outside, our agreement if I took too long he will left me which I don't like. How can I carry 4 tray of eggs while holding my umbrella plus it is snowing?  So I directly went to the counter with my tray of eggs and detergent soap.
I have have told him before we sleep that my Dove Body wash in the bathroom is almost empty and if it is okay for him to buy one set for me, as they are sale in the super market, his answer is a question why do I need it, just used soap he added.
As of today I feel uncomfortable of the thought of the Dove Body Wash so I hurriedly wear my jeans and take my winter coat and head on outside, when I remember I didn't yet pay the internet bill I return inside our apartment and look for the bill, just so lucky too that Pookie bear left his wallet where the his bank card is.
I pay the internet bill first in KB Star  Bank and head on to nearby Nong Hyup supermarket, looking at the body wash in the aisle I can't decide which one to buy, should I buy one or two Body Wash with refill set or not. So thinking if Pookie bear will buy one for me tonight  I should buy one, but thinking if he won't buy for me I should buy two right now before it is all gone. The dilemma is there is three kinds, I walked around to other aisle thinking what to do, my final decision is to take two kinds, if ever Pookie bear buy me one tonight I should picked the other one.