Browsing Category: "Wedding Fashion and Events"
When you're having a real Texas shindig where your outside tents are full of well-dressed men and women to enjoy the wedding of a dear friend or relative, the washroom facilities get a little tricky. Thankfully, there's now an answer: the restroom trailer.
It's a luxuriously appointed, practical trailer that hitches to the back of a truck like a Ford F-150 and can be towed to where it's needed. There are many types of restroom trailers available, from the selfie model to the commercial one, to the luxury model complete with overhead AC, wooded trim finishes, and other little touches that will surely be appreciated.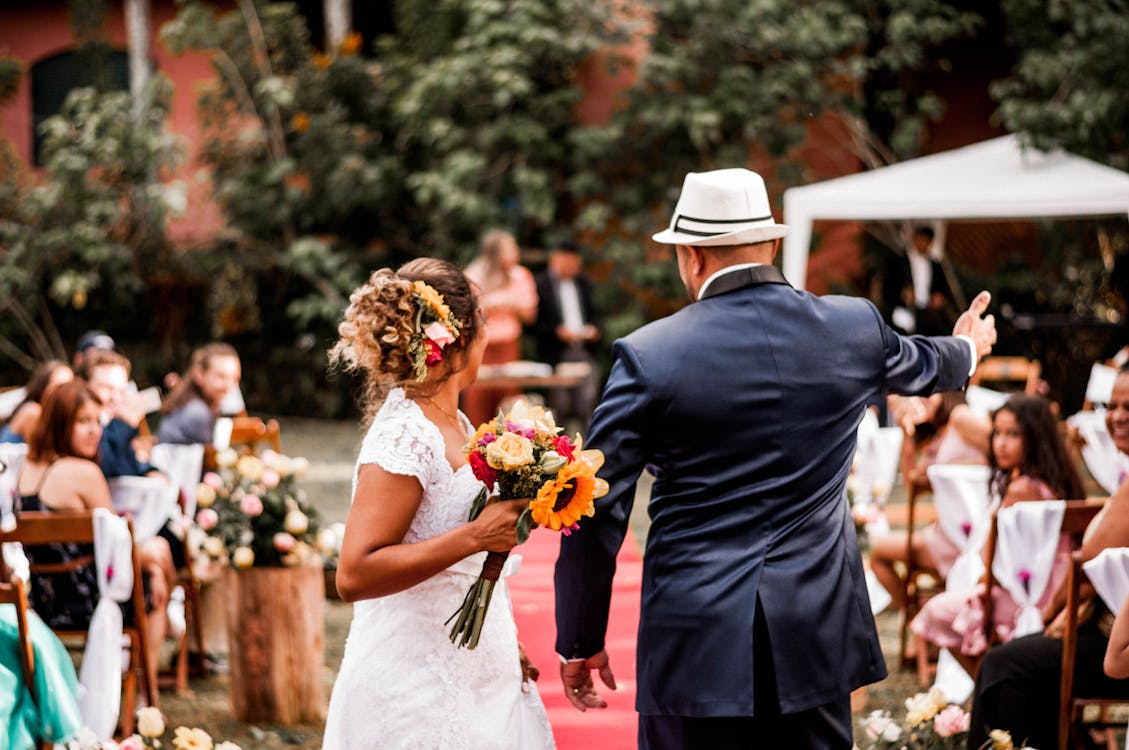 [Photo courtesy of Joel Santos/pexels.com]
Let's look at a few situations where a restroom trailer is a good option for a wedding.
Washroom Facilities for an Outdoor Wedding Venue
Hiring an outdoor venue for a big wedding with many marquee tents is a great way to manage a larger wedding group without struggling to find a venue large enough. The only challenge with hiring a tent is the washroom facilities. A restroom trailer is a great solution to the problem.
A restroom on wheels – available in various sizes to choose from, either one large trailer or two smaller ones positioned on either side of the venue – is a flexible solution. Luxury models often come with burlap-covered walls, attractive vessel sinks, and carefully crafted stalls that don't feel cramped at all. From the patterned floor to the fiberglass overhead, the stylish little touches are everywhere, so guests will certainly give props for the washroom facilities.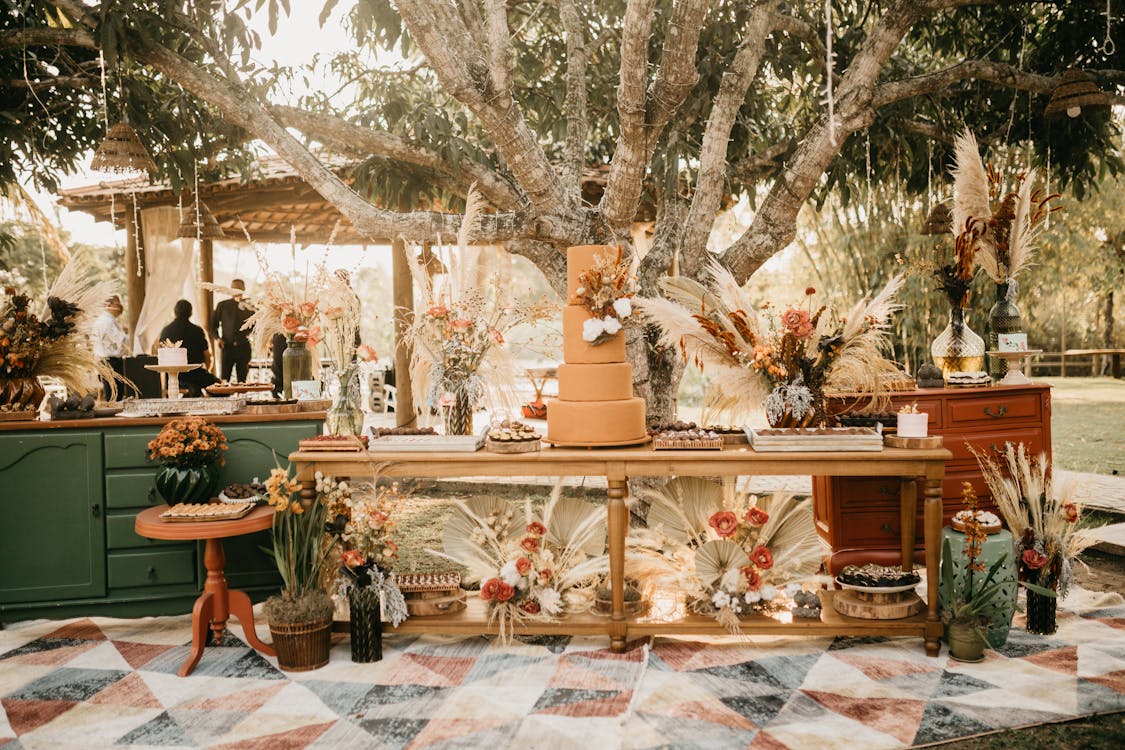 [Photo courtesy of Jonathan Borba/pexels.com]
Commercial Washroom
The commercial washroom trailer comes with a basic layout, so it can be dressed up however you need it. For low-key weddings where a few pleasant touches will certainly be appreciated, yet pure functionality is what you're going for, then a modern commercial washroom is good solution. When there's a color scheme to the wedding or party, this can be incorporated inside the washroom too. There are also different trailer sizes depending on how large you feel the facilities will be required.
Entertainment Venue After the Wedding
A selfie station is designed to provide a bright washroom to supplement or be used instead of the existing facilities at a wedding party venue. Either their washrooms are obviously too small or they're just inadequate to the task, in which case providing a different facility will be desirable to guests.
The selfie washroom trailer includes hot and cold running water, a bright clean interior, a radio entertainment package to keep guests in the dancing mood, solar powered facilities, and AC that automatically turns on when guests enter. With over 100 gallons of fresh water available, there'll certainly be plenty to wash their hands and get cleaned up before grabbing that selfie to post on Instagram.
There are different types of washroom facilities ingeniously built into trailers that can be towed into position. Clean and carefully appointed with all the facilities required, guests can enjoy the use of the facilities and then go right back to the wedding or party.
You want your wedding to be perfect right? Of course you do! It's thing from the one of, if not the most important day of your life so why shouldn't you want everything to be just so? Of course, trying to make everything perfect can be a bit of challenge, especially when you've got so many things to organized at once. Everything from the venue, the guest list, the decor, and more is probably swimming around your head at all times. Because of that, it can be pretty easy to end up missing certain things. The little details that slip through the cracks might not seem like such a big deal, but they really can make all the difference when it comes to turning your wedding into the perfect day that you deserve. To help make sure that it's smooth sailing all the way, here are some little details about your wedding that you won't want to ignore.
Who will be there?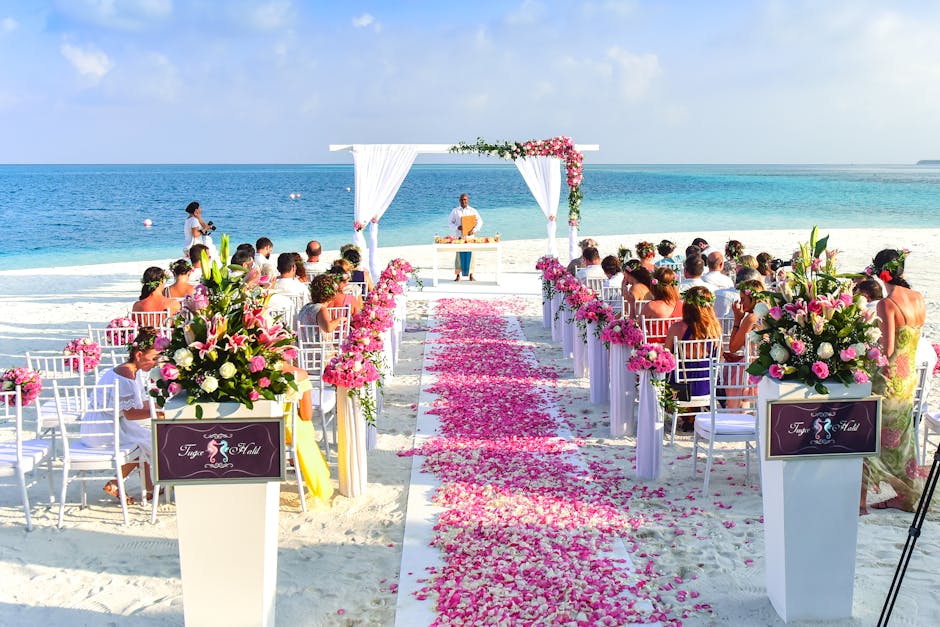 [Photo courtesy of Ibrahim Asad/pexels.com]
This might seem like a seriously obvious question, but it's actually more complicated than it might first appear. For one thing, you should ask yourself, who do you actually want to invite to your wedding? So often, a bride and groom end up inviting people to their wedding out of some sense of obligation rather than actually wanting them there. When that happens, it can make things pretty awkward and uncomfortable for everyone involved. But the people at your wedding aren't just limited to the guests. Everyone from the photographer to the person who's actually conducting the service are people who will be attending your wedding, so you'll want to make sure that they're the right people for you.
Kids or no kids?
This is a question that many couples face when they're planning a wedding. Some people feel as though kids are the life and soul of any celebration and that any wedding without kids is going to be missing something. However, there are also those who feel as though a wedding should be a calm, refined, adults only affair and that the sense of chaotic energy that kids almost inevitably bring should be saved for other places. That choice is entirely down to you and your partner, but it's something that a lot of people tend not to consider. If you decide to have kids at your wedding, then think about things that you can do to keep them entertained, like a crafts table or specialised, kid friendly zones.
Seating arrangements
[Photo courtesy of rawpixel.com/pexels.com]
Once you've decided who is actually going to be at your wedding, you need to think about where they're going to sit. This might seem like an incredibly small, simple aspect of a wedding but it can often end up taking up a huge amount of time and space in your mind. You don't want to separate people into groups in a way that makes anyone feel less important than anyone else, but at the same time, you're going to want the people closest to your to be near you during the reception. Think about mixing up family members, so your's and your partner's guests aren't separated. Not only that but it's a good idea to have a solid mix of people at every table. Outside of your own table, where you'll likely have your closest friends and family, there's no reason to arrange things by how close you are to certain people.
Well, you have finally been selected to be one of those bridesmaids that will grace the occasion beside the couples, what next? It is about that time for a head breaking scenario as you will all have to pick best Bridesmaid Dress that stand out. There is no point of being picky when it comes to this attire. The best needs to be chosen in order to precisely mix and match so as to create an exquisite look. The best event can only be realized if the bridesmaid dresses are selected as follows:
The entire group of bridesmaid should be in attire that superbly fits all of them. For example, bridesmaid gowns 2017 come in various styles and shape. A slim lady cannot look great in attire that is made for those that have big bodies. Bridesmaid dresses should favor each and every person in that group.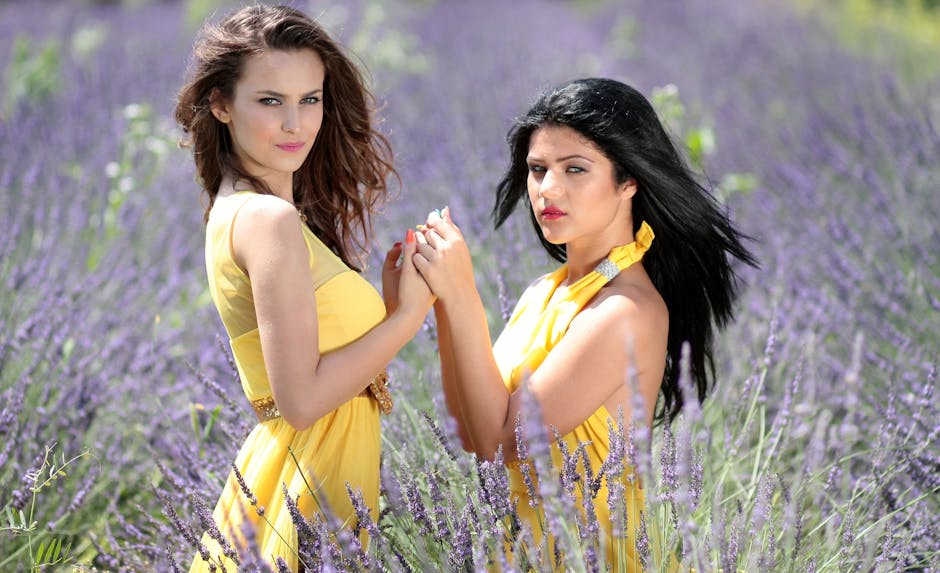 [Photo courtesy of Pixabay/pexels.com]
The best bridesmaid dress is one that looks similar to that of the bride. There is no logic if they do mix and match terribly. The best way to achieve this is to look at websites where you can find both. At this shopping place, there is a wide range of the bride's dress that matches with its suitable bridesmaid dresses.
What about the season of the year? If the wedding is taking place during winter, velvet like bridesmaid dress can stand out. Taffetas can also play its best part during the summer. Make sure to check what is the new trend to get an insight of which particular bridesmaid is fit for that season.
If each and every person has decided to choose her own dress, make sure their selected bridesmaid gowns 2013 have something in common.
Doing this prior to your wedding, searching online will be a direct ticket for a green light event that will act as a memoir to all those who attended.
As your big day is approaching, there are lots of little details that you're to want to firm up. Although you've probably got some of the bigger choices confirmed months ago, there are always lots of little decisions and finer details that you have to put in place in the run-up to your wedding. One of these will be your jewelry. You may have had some ideas in mind when you first imagined yourself as a bride, but you still have to pick out the final pieces. So, if you want to make sure that you cover off all areas of your jewelry decisions, here are five key areas you won't want to forget.
The Wedding Bands
The first piece of jewelry that you're going to want to pick out will be your wedding rings. This may be something that you decide on when you chose your engagement ring or even earlier on during your planning, but if not, now's the time to decide on a style. Whether you want to look at some classic designs such as the Tacori wedding rings here, or even get something custom made, now's the time to decide. Just make sure that your final choice is something you love, as it's a ring you'll wear for the rest of your life.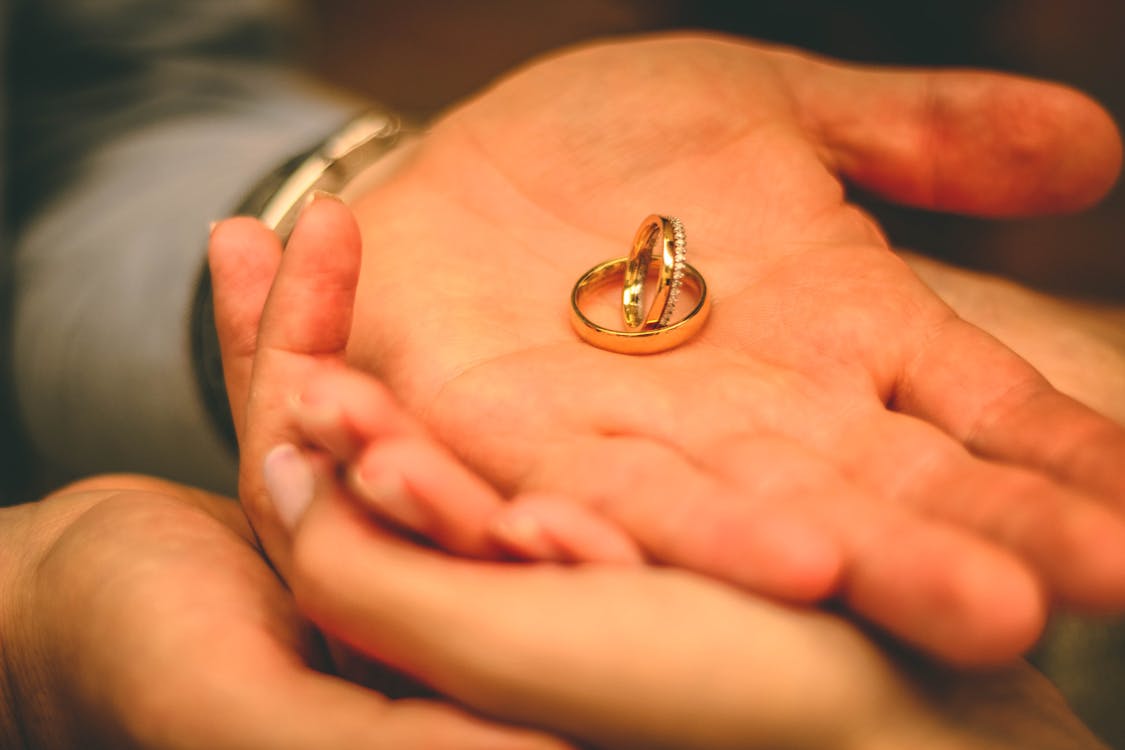 [Photo courtesy of Lucas Fiorini Fotografias/pexels.com]
Earrings
With the wedding bands chosen, you're then going to want to think about your personal jewelry for the big day itself. This could be something that you already own or even jewelry that you want to pick out especially for your wedding. Your style of earring choice may be based on two things; your dress and your hair. You may want simple studs or something bigger and dropped so that it's more noticeable. Either way, you need to make sure your choice works with your final look for the day.
A Necklace
Then, you may also want to think about styling a necklace with your dress. Again, this will depend on both your hairstyle for the day and the design of your dress. If you have something high neck, you may not even want to wear a necklace at all. But if you're working with a strapless dress, then you may want a necklace to break up the space and add a nice sparkle.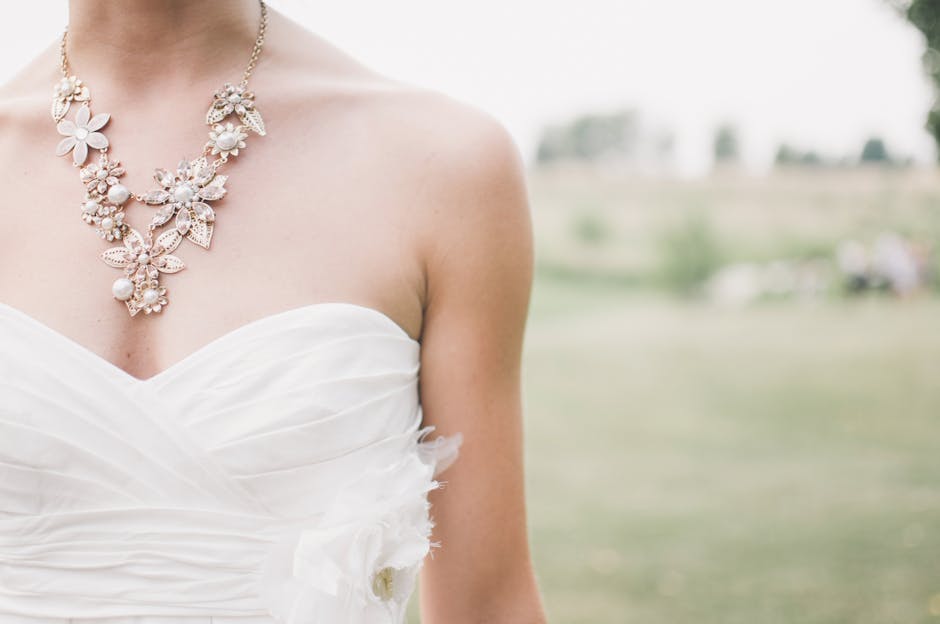 [Photo courtesy of Scott Webb/pexels.com]
A Bracelet
After a necklace, you could also think about wrist jewelry. Bracelets look beautiful on your wedding day. However, the style that you choose will be based on your dress. Again, if you have something strapless, a bracelet may be able to break everything up and add some sparkle to your arms. But if you're working with a long sleeve, you may not want something that prominent.
Something For Your Hair
Finally, you may also want to think about the ways in which you can dress your hair with jewellery. Regardless of the hairstyle, you're working with; wedding hair accessories can always set it off perfectly. Whether you go for a clip or tiara, or even pins, you can add some bling to your locks to make your look complete.
Among the more complimentary of terms that can be used to describe almost anything is to call it a "one of a kind" item.  In the most praiseworthy manner, this term describes the unique qualities and characteristics of custom jewelry, luxury engagement rings and custom wedding bands crafted by Krikawa.  This custom designer has a knack for developing one of a kind designs that satisfy customers worldwide.  They do this using virtually countless options in terms of precious metals and stones, color, the application of their experience with design and an innate quality which helps assimilate the ideas and creativity of their customers.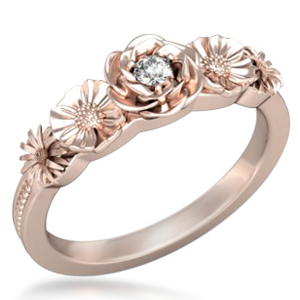 The process they use to design custom wedding bands or engagement rings is extremely simple yet effective.  From the onset, the craftsmen and designers accommodate customer ideas originating from magazines, pictures catalogues or other sources and make helpful suggestions that will culminate in the production of a wonderful, unique custom ring.
The many awards Krikawa has garnished over the years speaks to their constant desire to improve.  This applies not only to their design work but equally to their customer service, sales, and management teams. All of them put the customer first.  Each individual is dedicated to the fulfillment of a dream and how best to arrive at a finished product that makes the exact statement the customer is seeking.
[Photo courtesy of WDnetStudio/pixabay.com]
Beyond any doubt the people, process, materials, and workmanship that the Krikawa brand represents are one of a kind.  Design, and creativity add a share point with customers leading to the creation of the ideal, unique piece representative of an equally unique relationship.  If you are looking for a "one of a kind "custom engagement ring or custom wedding band why not come to Krikawa; a one of a kind custom jewelry designer.
From a young age, most women begin to have a fascination with the kinds of baubles that sparkle. Jewelry is often the go-to gift most men choose for their significant others, and most women believe they can't have too much! But after you purchase that new cocktail ring or chandelier earring, do you know what you are going to wear with it? As with any fashion device, jewelry has plenty of its own rules for how you can and can't wear it. Included here are a few tips to consider when you are getting yourself ready to go out.
Earrings
Arguably the most popular kind of jewelry, many women never leave their house without a pair of earrings on. When wearing heavy or large earrings, be sure to not overdo the look. Pair dangling earrings with a neutral-colored top and a bare neck. Keep in mind, the heavy sparkle and long dangle will accent your skin and stand out more if you leave your neck bare.
If you are attending a more conservative function, be sure your earrings match your attire. Small studs or dainty hoops and clusters are the best choice for formal wear. Be mindful of the color present in your earrings. Pair multi-colored or white earrings with a black dress and don't have clashing colors.
Bracelets
With all jewelry, less can be more. If you are going to be wearing a watch, do not put on a bulky bracelet on the same wrist. Keep track of the different styles you are pairing, while contrasting colors are appealing, pairing a formal bracelet with a casual woven wrist strap can be unattractive. Most thin bracelets will hold more appeal if worn together to give a "bangle" impression.
Rings
While some women choose to go simplistic on their choice of ring by only wearing their necessary wedding band, others choose to use rings as a form of expression. This means getting behind the latest cocktail ring and midi style choices. With rings, it is a huge faux pas to mix various metal colors or outshine your engagement ring on your wedding day.
If you are going to for a classy, little-black-dress night out, pair your jewelry to your mood. This means wearing a simple metal band or black onyx ring in lieu of gaudy cocktail jewelry. The recent fashion trend of "combo rings" can work exceptionally well with skinny jeans or oversized tops. They are a nice subtle way to up your look without too much effort.
Materials
With most earrings, different materials will suit certain situations better. Wood, acrylic and plastic jewelry should be reserved for casual events while crystals, rhinestones and pearls can be worn during formal and dressy occasions.
In the past, the only consideration to be made when purchasing a men's wedding band was the size. The ring, which was typically a thin band featuring yellow gold, was all that was needed. However, today, there are many more options and considerations to make. From custom stone-encrusted rings to mens black wedding bands, there are endless options. Some tips to help you choose the right one for your fiancée are highlighted here.
Budget
While the women's ring is likely going to cost more, there are men's wedding bands offered at all price points today. This means it is a good idea to establish a budget ahead of time. This budget will help ensure that no overspending takes place. Take some time to ensure the price is right prior to making a purchase.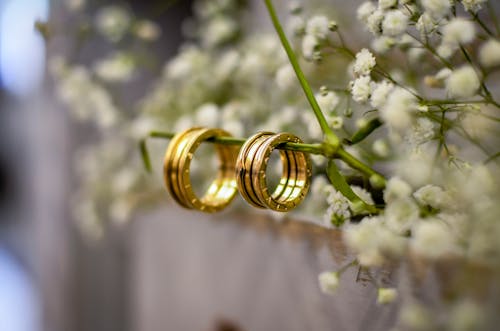 [Image courtesy of Glauber Torquato/pexels.com]
Match or No Match?
Another important consideration is whether or not the men's band should match the women's. Some people want to have wedding bands that match, while others don't. This is a decision that is totally based on preference and one that should be considered carefully in order to ensure the right bands are purchased.
Comfortable and Durable
Men are notorious for being rough on jewelry. This means that the ring purchased needs to be durable, while being comfortable. This will help to ensure it can stand up to the daily wear and tear it will be exposed to. There are some golds and metals that are softer than others, which means they may be damaged more easily. Take some time to ensure the right ring is purchased for the person based on the wear and tear it will be exposed to.
Do some Research
While there are a number of things to consider when purchasing a ring, it is essential that you do plenty of research ahead of time. This will help ensure that you know where to shop and where to find a ring that fits in your particular budget. Failure to research the options may result in purchasing a sub-par ring that no one really wants.
More information can be found by visiting the Northwood website. Here couples can browse a number of different men's ring options until they find the one that is right for them. Doing this will pay off in the long run and help ensure the right ring is purchased for the person. Don't rush into a decision since this can result in too much being spent or the wrong type of ring being purchased.
One of my older cousin's is set to wed next year but every one is already excited what to wear and where to find clothes,  clothes for the couple to be wed, wedding sponsors, accessories for the bride and groom like tuxedo accessories and much more.  Not sure if they already pick a theme for the wedding, it will be probably the favorite color of the bride like usually happens.
Wedding preparation is a tedious event, busy and full of excitement although it is one of the joyous event for couple and every body who are invited to celebrated, free food and drinks.
Every couple wants to find a perfect wedding photographer who can immortalize the most important day of their lives. Wedding pictures are passed down through generations, so they should look amazing. Make sure you choose an experienced wedding photographer who fits your needs as well as your budget. Take the time to do research and compare wedding photography services in your area. Use a third party website like SnapKnot to find a local photographer quickly and easily.
Choose Your Favorite Style
Each photographer has a different style. Some specialize in keynote photography. Some prefer a more traditional approach. Others take candid shots. That's why you should first decide what style of wedding photography reflects your taste and preferences. Every style requires a different approach and special equipment.
If you're not familiar with the most popular wedding photography styles, go online and look for pictures. Compare wedding photos and then choose your favorite ones. Show them to the photographers you're interested in and try to find out if they can do something similar.
Assess Your Budget
Wedding photography prices vary greatly. You can hire a photographer for as low as $200. Some photographers won't come to your wedding for less than $10,000. Assess your budget and decide how much you're willing to spend on these services. Most times, you get what you pay for. However, this doesn't mean that you should choose the most expensive photographer in your area.
Go to www.snapknot.com or other similar website to compare wedding photographers online. Consider their location, skills, experience, style, availability, and price. Online wedding photography listing directories are a great source of information. These sites allow you to compare hundreds of local and national photographers. Check their rates, visit their websites, and request a quote. If you're on a tight budget, let the photographer know about it. He could provide you with a special offer or a basic package that fits into your budget.
Do In-Depth Research
Before hiring a photographer, request work samples and compare prices. Contact your favorite service providers and check their portfolios. Look for customer reviews and testimonials on the Internet. Read reviews from recent brides and contact them personally to request more details. Make a list of photographers in your area and schedule interviews. If possible, ask to see two or three full wedding albums. Review their work with a critical eye. Don't forget to ask about the rights to all photos taken at your wedding.
The wedding day is the last day of your single-hood and in this momentous event in your life; you should be the star of the day. The preparation for the wedding should start weeks to months ahead to make the occasion a great success and stress-free. The bridal party ideas Niagara Falls will avoid wedding glitches. It starts with the preparation of the wedding and party venues, catering services, party favors, wedding invites, bridal gown, and wedding entourage, floral and physical arrangement.
When you lack people to help you out in wedding prep, entrust them to the wedding coordinator. While waiting for the big day, what you will need is being physically ready together with your husband-to be by pampering yourselves with spa treatment that include facial treatment and body massage, manicure and pedicure. It is good to see your face glowing while marching the aisle as the attention will all be focused to you. There is a lot of health benefits that you can derive from spa as it cleanses your skin by removing the dead skin.
[Image source wikipedia.org]
Get yourself relaxed while taking advantage of the bridal hair and makeup Niagara Falls that will turn you into a lovely woman. It is composed of expert makeup artists and hairstylists who will offer you with trial makeup so they can determine what is best for your skin type including with that of your bridal entourage.
Look daring or sultry with celebrity-inspired hairstyle and makeup. Jennifer Lopez' high bun hairstyle or Kristen Bell's princess bride hairstyle are what most brides are wearing on their wedding day. Look glamorous, sophisticated and alluring with a lot of hairstyles and makeup colors that you can choose on your wedding day. Don't forget that your photos with your groom will complete the matrimonial celebration to cherish for a lifetime.