When was the last time I shop for small stuffs?  Two or three months ago?   The other day I was able to shop not so important things for myself as I am done saving for the postal fee of the package I have sent home. They already received it the funny thing is my father only appreciate the tape measure (metros) and he didn't like the sample of deodorant and body wash I included, oh well maybe he didn't like the smell because it is peppermint. My mother and sister for sure love the stuff I send mostly chocolate, cookies and candies and some household stocks like coffee, milk, shampoos and etc., . I also included pairs of earrings, my mother says they are old sold out now, not by cash but by credit. Lol! They are not expensive nor gold they are just accessories which I bought here.,
So the other day as I feel relieved and just to treat myself for an accomplishment I have done, I bought few stuffs not just for me,  I bought a digital cleaner for our computer, hanger to hang my camera connector and headphone,  towel to use in the gym, notebook for Pookie bear,  packaging tape for future usage,  scoop for rice and little bowl for food.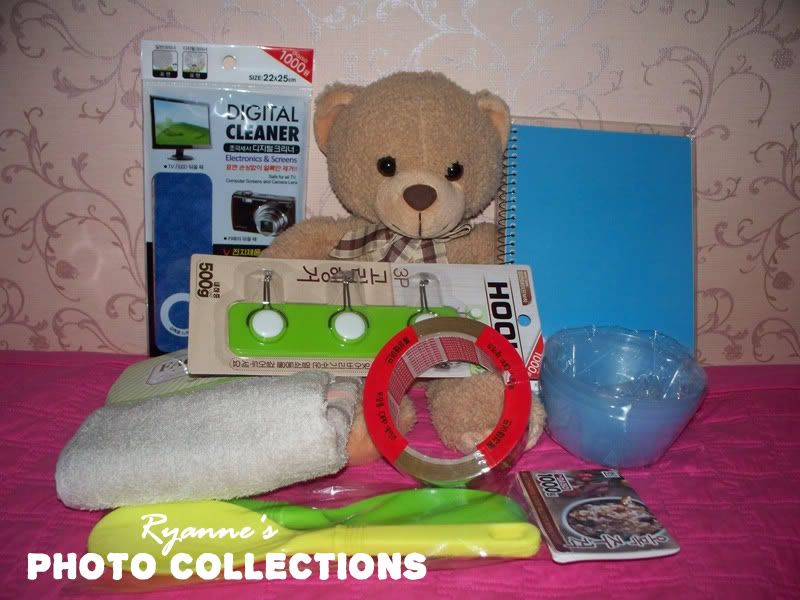 I didn't spend a lot because they are just cheap items, I just love buying something cheap oh well I am addicted to sale and cheap items, isn't it?