Buying beauty products online is great for avoiding busy crowds at the shops. The great thing is that as long as you have an internet connection, you can do your shopping whenever you feel like it. So if you happen to wake up in the middle of the night and just can't get back to sleep you could always spend that time doing your shopping online! Online shopping also means that you can easily get your hands on products from other countries. The downside to this though is paying for delivery which can often be expensive.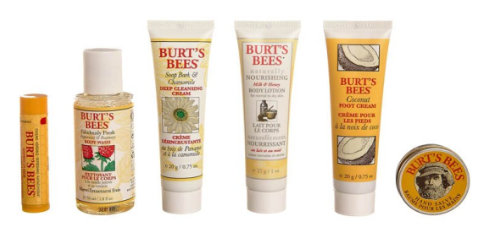 I often find that the range of beauty products is a lot better online as you can shop around different stores until you find what you were looking for. Also buying products online is really good if you're on a tight budget, as you can do a price comparison to see where the cheapest place to buy your favourite products is.
In one of my internet trawls for new beauty products I came across an online shop called Zalando, which is a German company, with online shops across Europe, including one in the United Kingdom. I really like their range of beauty products, especially a label that I've never heard of before, an American brand called Burt's Bees. I like that these products are really natural and if the labels are anything to go by they look like they would smell fantastic – cranberry and pomegranate, YES please!
Do any of you buy beauty products online? Do you have any tips that you'd like to share?
Bye for now! X
Image courtesy of Zalando