For most people the most exciting part of summer season is heading to the beach but there are some who prefer to give in to their adrenaline rush by climbing that mountain slope or do things that gets the summer tan to fit in the crowd.
No matter how you spend your summer you should keep in mind that spending extended hours under the extreme summer sun can pose serious danger not just to your skin but to your hair and scalp as well, yes the same UV rays that brings damage to your skin without proper protection can equally hurt your hair and scalp too.
Below are some of the problems your hair can encounter during the season:
Scalp problem – Scalp may also get sun-burned if you don't use cover-ups for your head.
Split-Ends – UV rays and extreme high temperature can take their toll on your strands. The heat drains the moisture of your hair out causing breakage.
Grease problem – Summer sun and humidity can bring extra grease on your hair, leaving it vulnerable to damage.
Double Trouble – Rebonded or permed hair needs extra attention as high temperature well as humidity disrupts the cuticle breaking some of the chemical bonds that keep the hair straight or curls and roughing up the cuticle, taking away shine and smoothness.
Excessive Salt Water – Salt water can cause the same damage as chlorinated ones. Salt water dries on the hair it creates a high-saline solution which can build up and cause hair to feel dry, weighed down and hard to manage.
Chlorine Stress – Swimming in the pool subjects your hair to chlorine. The outer layers of the cuticle of the hair opens up when you swim and chlorinated water seeps into the center of the hair thus making your hair more brittle.
Well, don't be discourage on getting a blast under the sun this summer because all these problem can be addressed by keeping your hair clean and showered after each activities. Getting your hair pampered will also give respite to the sun and chemical abuse and you can also take vitamin supplements that benefits you hair such as Vitamin C and Biotin.
Novuhair, nature's answer to hair loss is made of 19 Natural ingredients which includes herbal components such as moringa oleifera, panax ginseng, virgin coconut oil and the natural essences of rosemary and peppermint.
Novuhair nourishes the scalp and hair by increasing the flow of nutrients and improving blood circulation to the scalp. Novuhair also helps hydrate the scalp, maintain the hair's natural luster and prevent early hair graying, hair dryness and itching. #NovuhairSummer
Novuhair Topical Scalp Lotion, Shampoo and Conditioner are available in all Mercury Drug Stores and other leading drug stores nationwide. For more information visit www.novuhair.com, like the brand's official Facebook Page at Novuhair Official, follow it on Twitter at @NovuhairNatural and on Instagram @novuhairofficial. You may also call the Novuhair hotlines at 4136570 and 09228830575 and order online at Lazada and regaloservice.com.
Being a homeowner offers a world of responsibilities – as you need to look after your home and maintain it – as well as a new universe of shopping opportunities. Indeed, shopping for your home is very different from hitting the shopping mall to check on the latest street fashion items. But you probably knew that. What you might not have known, though, is that there are ways to shop smartly for your home, and to save a vast amount of money for services and equipment that wouldn't be easily affordable otherwise. Indeed, when you are buying specific equipment for your household, it is important to consider carefully what lies behind your decision to purchase an item over another one. Additionally, the DIY approach can save you a lot of money in the long term, so it's always worth giving it a go. Finally, there are ways to find additional financing options for your home improvement projects.
What Lies Behind Your Home Spend?
At the start of your shopping journey lies the very question: What will drive the shopping reasoning? For instance, it's important to define whether you are buying an item because you need it – such as fixing a damaged element in the home – or because you want – your entire home decor project falls under the 'want' category, for example. Additionally, as you decide on a specific item or several items depending on your home improvement project, it's essential to settle only for quality. Indeed, when you buy something new for the home, you want it to last. Consequently, you may have to invest a little more in your home shopping to ensure that you can get items that you can rely on.
Can You Do It Yourself?
[Photo courtesy of Pexels/pixabay.com]
There's something interesting about home improvement projects. You don't always need to hire a professional engineer; you can do it yourself. However, you need to be careful as some types of improvement work, such as electric improvements, will need to be done by a qualified engineer to be included in your home insurance cover. For anything else, you can often revert to the DIY approach. Certain home improvement suppliers, such as Bathroom Takeaway, even provide you with plenty of tips and informative content to help you throughout the project. Thus, you know what to choose, how to install it, and what DIY equipment you need in the process.
Are There Other Ways To Pay For It?
You have probably considered a loan to proceed to large-scale improvement projects. However, what you may not know is that you can benefit from governmental aids and funds to repair and modify your home. For instance, you can find home improvement loan programs that help lenders to make loans that they wouldn't normally agree on. You can even find local financing options from your local Department of Housing and Urban Development (HUD). There are also incentives that are specifically designed to help you to address energy efficiency modifications. There are decided at a state-only level. But this is not all. You can find financial support if you are a veteran, a rural resident or even a Native American.
This is a sponsored post. All opinions are mine.
It is hard to find hairdressers that are well experienced and whom you are going to be comfortable with, but today with the help of internet you can easily find reviews of every product and establishment online but living in a rural area where internet isn't that great, personal recommendation from friends and other people are often the best way to choose a reliable hairdressers.
When my sister and I planned to get a hair rebonding we didn't immediately went to any hair salon in town, we asked and waited results from distant friends and acquaintances that had hair rebonded from different hair salons. We carefully choose whom we are going to trust our money and hair, since hair rebonding cost more than a simple haircut. We don't want to see our money go to drain after a month of getting a hair rebond to a wrong hairdresser.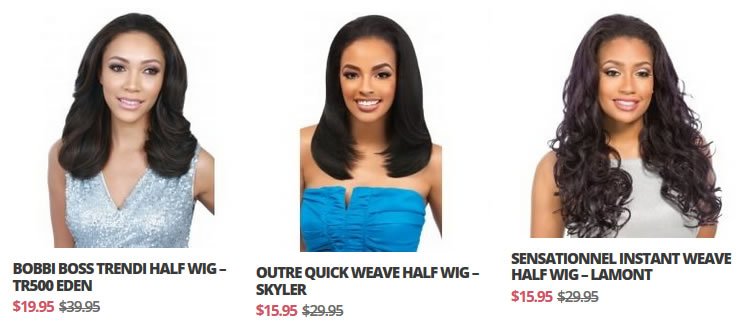 We finally decided to get our hair done after seeing the work of a particular hairdresser to a woman from our village, we are amazed how her  hair still manageable soft and straight after months of getting a hair rebond contrary to others where their hair went frizzy and dry, with her recommendation we contacted the hair dresser for home service and we didn't regret our decision but there are times I would like to glam up on  a wavy or shorter hair without sacrificing the length of my hair and with proper research I found out half wigs from Divatress can do the trick at affordable price because they have amazing selection of wigs according to your style and party needs.
If you have not heard yet, Divatress is a leading beauty e-commerce company that offers thousands of wigs and hair care products.
These days, online shopping is the norm for many people. They prefer to get things online rather than on the high street, and it's not hard to see why. This method of shopping is easy and convenient. But that doesn't mean that things can't sometimes go wrong for consumers who shop online. You need to be aware of the traps you could fall into because they might cost you big,
Paying Luxury Prices for Luxury Brands
Just because you want luxury products, that doesn't necessarily mean that you have to pay luxury prices. That's a mistake that many people make. The best thing about online shopping is that you can get your hands on products from luxury brands without paying the full price. There are plenty of websites that allow you to buy these items at a lower rate than you'd find in shops. And sites like Ebay make it easy to buy second-hand luxury items too.
Falling for Dodgy Deals That Are Too Good to be True
There are plenty of great deals online, but there are also plenty of dodgy deals too. It's important to remember this. You don't want to be ripped off or to fall for a deal that is simply too good to be true. Always look at the security features of the websites that you buy from too. Some websites are not properly secured, and putting your financial information into these kinds of websites can be very risky indeed. You need to make sure that you don't do this.
Not Factoring in Shipping Costs
Yes, many of the deals you find online will be cheaper than the ones in the shops. However, you also need to factor in any shipping costs that will be attached to your purchase. If the shipping costs are high, it might make the overall deal not as strong as it first looks on the surface. It's important not to forget about this. It seems like an obvious thing to point out, but it's a mistake that gets made by people all of the time.
Ignoring the Returns Policy Details
What are your rights as a consumer? You need to know the answer to that question before you buy something online. That means reading the returns policy and learning where you stand on this issue. If you make the mistake of ignoring these policy details, you could end up disappointed and frustrated later on if you end up wanting to return an item that doesn't fit you. So, it's always worth taking the time to read about these things in advance.
Failing to Shop Around
Shopping around is something that everyone should do when they are looking to buy things online. It simply makes sense to start looking at what other companies are offering. There are price comparison sites that make it very easy for you to look at arrange of offers, and then compare and contrast them. When you get into the habit of doing this, you will start to save money on a continual basis.
We admit it or not, there's indeed a woman behind the person we are today. We used to call her nanay, inay, 'nay, inang, mama, mamang mommy or simply mom.  Yes that's no less than her—our mother. A mother is an epitome of a doting human being that touches everybody's life.   For better or worse, it's always the welfare of everyone at home on top of our mother's priority. Although, there may be opposing beliefs whether that greater maternal instinct is biologically predetermined or socially imposed, but everyone would agree that a mother is hardwired to love and care about the whole family, especially the children, all the time. So, it's but right to honor and return all the favors she has done for us.  With, mother's day coming she deserves more than anything can offer, given the pivotal role she fulfills in rearing us from childhood to adulthood and possibly for the rest of our lives.
There are many ways on how to spend this time of the year again with her. Well, you may opt for the basics of gift-giving from simple trinkets to expensive items. You can either treat her to a fancy restaurants, buy her favourite food or wrapped something that you think she will love the most, you may consider a set of hankies that will bring back the memory of her wiping out her tears of happiness upon knowing that she's conceiving a li'l creature inside her womb or why not a pillow that she could hug as tight as she embraced you after giving birth, or maybe a brassiere for protection of the very bosom she fed you with during infancy? A bed will bring to her mind your tot years when you started to crawl and roll over it freely.
Much to her delight, a bling ring will be worthy of your dear investment to show your deep appreciation of her just like when she never failed to recognize you with a pat on the back for simple good deeds or a job well done in your lifetime.
Whatever you may get for her always take note, your appreciation of her is not equated by the tag price of your present, as an old saying says "It's the thought that counts".
Can't think of something yet? Here's a simple but meaningful token of gratitude that for sure will make a big difference and, eventually, pull off a surprise for the celebrant herself: The NOVUHAIR 3-in-1 pack which includes the topical scalp lotion, herbal shampoo and conditioner.
More than anything else, NOVUHAIR 3-in-1 pack may be one of the most precious gifts that your mom could ever receive in her entire life. Well, she's the most important woman in your life after all. Hence, she deserves to be treated like a queen with that vibrant, bouncy and shiny "crowning glory."
Whatever impression it may have on her, what's tangible she could gain is that you're giving her nature's gift of health. NOVUHAIR Topical Scalp Lotion is so unique that it combines 19 natural herbs, essential oils and co-factor nutrients––all working synergistically to help address hair problems from growth to vanishing. This breakthrough product helps to rejuvenate, nourish and maintain the moist of her tress from root to tip, aids in stimulating the growth of her hair and helps prevent it from excessive falling, while improving the overall appearance.
NOVUHAIR 3-in-1 pack is beyond compare. So, don't think twice to wrap it as your present for her this Mother's Day and, if ever, for life. Head on to any Mercury Drug and other leading drugstores to get a dose of nature's answer to hair loss.  For inquiries, call 413-6570 or 0922-8830575, and visit www.novuhair.com for more details. Follow us on Twitter @NovuhairNatural and Instagram @NovuhairOfficial for promo announcements and exciting updates.
If you're like most people, you want to look and feel your best. Doing so boosts self-esteem and also gives you more confidence when interfacing with other people. Luckily, there are hundreds of beauty strategies you can deploy to make these things happen. Here are three of them:
1. Invest In A Monthly Facial.
One great beauty strategy that can really take your appearance from average to awesome is investing in a monthly facial. This strategy is empowering because it helps optimize the most visible region of your body. Note that there are specific facials for almost any skin issue under the sun. This includes hyperpigmentation, acne, and wrinkles. Before you sign up for a facial, make sure that you do your background research on the aesthetician in question. Check her or his online reviews to ensure that you're working with an industry expert who knows the world of skin care infinitely well.
[Photo courtesy of claudioscot/publicdomainpictures.net]
2. Lift Weights.
In addition to investing in a monthly facial, make sure you get in the habit of lifting weights regularly. This technique will help optimize your appearance in numerous ways. First, lifting weights improves your posture, thereby creating a look of confidence and lengthening your body. Second, weight-lifting helps boost your metabolism because it builds muscle. Once this happens, you'll be able to burn more calories throughout your day, thereby enhancing the weight management and/or weight reduction processes. If you're not familiar with the world of weight-lifting, note that you can hire a personal trainer to assist you with the process.
3. Consider Plastic Surgery.
While there are a wide range of natural beauty strategies you can employ to look your best, it is often the case that aesthetic issues are best resolved when you attain professional plastic surgery services. There are a wide range of plastic surgery North Carolina companies that can provide you with numerous customized, cutting edge beauty services that help you correct physical imperfections quickly and correctly. Companies such as Cary Plastic Surgery are pleased to offer all of the following cosmetic services:
• Abdominoplasty
• Body Contouring
• Arm Lift
• Botox
• Breast Augmentation
• Body Lift
• Breast Reduction
• Breast Lift Surgery
• Chemical Peel
• Brow Lift
• CoolSculpting
• Dermal Fillers
• Ear Surgery
• Chin Surgery
• Facelift Surgery
• Eyelid Surgery
• Laser Skin Resurfacing
• Facial Implants
• Liposuction Procedure
• Skin Rejuvenation
• Tummy Tuck
• Nose Surgery
• Thigh Lift
Don't Delay: Start Using These Beauty Strategies Today!
If you're ready to make yourself an aesthetic masterpiece, now is the time to begin. You can implement some or all of the beauty strategies outlined above to start optimizing your appearance immediately!