Archive for December, 2016
Simple, yet the definition of beauty and elegance, pearl necklaces have graced the necks of women and young ladies for centuries. From weddings to formal parties, a strand of pearls draped delicately around the female neck was a common sight. Long ago when pirates ruled the seas, even the beautiful and tough women traveling on the ships were fond of wearing pearl necklaces in a less formal fashion. Women today could learn a lesson from the seagoing ladies of yesteryear. More often than not, your stunning strand of pearls are probably tucked away in a jewelry box just waiting just for a special occasion when you can wear them. Which is such a shame since the pearl necklaces you bought at places like The Pearl Source can complement casual clothing just as they do with elegant evening wear.
In order to properly pair the jewelry with the clothing, you must first select which pearl necklace will look best with the outfit. Simple outfits, such as a dark tank top and dark jeans, can be beautifully accented with a bold pearl necklace. To prevent a casual outfit from looking bland, simple wrap a long strand of pearls twice around the neck. If your outfit is a bit more complicated with prints and bright-colored shoes, it may be best to forgo a strand of pearls and instead wear a pendant necklace.
Since pearls jewelry can be both demure and dramatic, you should keep any other jewelry you might wear to a minimum. These naturally eye-catching gems should be allowed to take center stage, so coordinate your other jewelry appropriately. What you must remember when wearing pearl necklaces casually is to make sure you don't look overdone or tacky with too much flashy jewelry. Excessive jewelry will only distract from your outfit and make your appearance look messy.
Matching a strand of pearls with a pair of jeans has become increasingly popular. Just look through the latest celebrity magazine and you're sure to see at least one famous female strutting the pearls and jeans combo. Despite its popularity, you can stand out from the crowd while still rocking your jeans and pearls. One way to personalize the pairing, is to move away from the classic white pearls and instead wear one of the many colored pearl necklaces available at sites like www.thepearlsource.com. Or you can simply wrap a strand of pearls around your wrist several times to create your very own pearl bracelet.
Image courtesy of imagerymajestic/freedigitalphotos.net
You are likely to be at the end of your Christmas list now as we reach the last few days before Crimbo. But it's often the last few gifts which can take the longest to find. After all, you are probably running out of ideas and will spend less time choosing the perfect gift for your loved ones. And as well as running out of patience, your bank account is likely looking a little bleak too. After all, we tend to spend loads at the start of Xmas shopping and then have little left when we need to get our last bits. Therefore, here are some tips to pick up your last few gifts when doing some last-minute Christmas shopping while on a budget.
Compare items online
If you have little to spend, you need to make sure you choose the cheapest possible option for the gift. After all, you don't want to buy a gift and then find it cheaper at an online store. Therefore, you need to make sure you compare items online before you do make a purchase. That way, you could end up saving some money which you can put towards other last-minute gifts. Just make sure that you check that it will be delivered in time, so you have time to wrap the gift and pass it on to your loved one!
[Photo courtesy of ErikaWittlieb/pixabay.com]
Look for items with finance options
A lot of stores are doing options where you buy the items on finance so that you can afford a special gift. After all, you might want to buy a friend or a family member something good but have run out of money. Therefore, paying it back monthly will ensure you can afford to buy them the gift. If you would prefer, you could always look at getting a loan to help you afford the last few gifts on your Xmas list. Even with bad credit history, you can get personal loans which can be paid back over time. That way, you will have the funds you need for those gifts.
Head to independent stores
You will find that a lot of the most popular stores increase their prices during Christmas. After all, they know everyone needs to get their last-minute bits sorted sooner rather than later. Therefore, if you want to shop on a budget, you should consider heading to an independent store instead. They are less likely to hike up their prices at Xmas, so you are bound to get great gifts for a reasonable price. And you are giving some small traders business which is a blessing at this time of the year!
Even though you might want to avoid the rush, it's a good idea to head out later on the day on Christmas Eve for your gifts. A lot of retailers will start to reduce their prices as they will want the items to go before they become useless when they open again on Boxing Day! Therefore, you might end up with a fantastic deal on last-minute gifts that won't break the bank.
When we were teenagers, we pretty much expected to grow out of spots and acne as we got into adulthood. Little did we know that there are so many more causes of bad skin than just puberty. If you've been suffering from spotty or blotchy skin and you can't see any reason why then try troubleshooting by asking yourself these six questions.
How is my diet?
A bad diet can play havoc with your skin. Lots of fatty and greasy foods can cause your skin to get greasy, so your pores are more likely to block and give you spots. Some foods also change the pH balance of your skin, causing irritation. Try keeping food fresh and veggie, while also cutting out peppers and tomatoes for a little while and see if there's any improvement.
[Photo courtesy of mahmoud99725/flickr.com]
Do I get enough exercise?
Working out is a great way to clear your skin up. The improved blood circulation means that your skin will heal quicker and sweating a lot also helps to clean out your pores, so your skin will look clearer. In addition, exercise releases endorphins, which counteracts stress which is a major trigger for acne.
Does it follow a cycle?
During our monthly cycle, we expect to see fluctuations in our skin due to the changes in hormone level. For some women, this is more of a problem than others, but can be balanced out by the use of hormonal birth control. Ask your doctor if the Microgynon contraceptive pill, or something similar, could help with your skin problems.
[Photo courtesy of Aqua Mechanical/flickr.com]
Do I drink enough water?
We need around eight cups of water a day to be healthy and happy. If you're dehydrated, you can find your skin gets dull and blotchy. As soon as you start drinking enough water, you will start to see a big difference. It plumps up your skin, increases the circulation, and decreases any signs of wrinkles, as well as flushing out toxins that build up and cause acne.
Could it be my routine?
Sometimes we get stuck in a rut, and our skin cleansing routine can actually be the cause of the problem. Some products will irritate our skin and make any complaints worse, or we may be using them incorrectly. Other products such as hairspray or perfume could also be irritating your skin. Read the labels to ensure you're using the right products for your skin type. Otherwise, try to change your routine a little bit, and substitute products for new products or nothing at all to see what could be its cause.
Do I touch my face too much?
Touching your face with your hands transfers bacteria onto your skin, which can cause breakouts. Avoid touching your face as much as possible, and if you have to, make sure you wash your hands before.
If none of these causes seem relevant to your lifestyle and skin-care routine, it could be worth speaking to your doctor about other possible causes. They will be able to advise on the next course of action for you.
There's a big difference between loving shopping and forming a dangerous addiction to compulsive buying. It's all about control – and reports suggest that between 2 and 5 percent of Americans lack that control and can't stop spending on shopping. That's just the reported figures, too – I would wager that if you scratch a little further into the minds of the average American that you might find that figure to be even higher.
While the Internet has made it easy to find what we are looking for, it also means we have a lot more temptation to deal with. In days gone by, we would have to walk past a shop window or see an advertisement somewhere to get sucked into the ' I want this now' process. Now, though, all we need to do is fire up our computer and access the Internet, and we are constantly bombarded with targeted ads that compel us to buy more than we might be able to afford.
[Photo courtesy of  Snapwire/pexels.com]
And it's a major issue – make no mistake about it. Shopping addiction can lead to debt, relationship troubles, and is often related to health issues like depression. With this in mind, I thought it would be a good opportunity to reveal ten of the signs that you might need to curb your spending problems, and that you might have a dangerous addiction. Let's get started with some of the most obvious pointers you need to watch out for.
The sneaky buyer
We all make the occasional 'naughty' purchase that we know we can't afford and try to hide from our loved ones. But, as long as you are only doing this occasionally – once or twice a year – it's forgivable. Where it becomes a big issue is when you are making sneaky buys on a regular basis. You might be purposefully arranging delivery times when you know there is no one else around. You could be sneaking them into your home, wardrobe, or onto your bookshelf on the sly, hoping that nobody will notice. You could even be hiding away receipts and boxes, or going to great lengths to remove the evidence of a shopping binge. If this sounds familiar, you have a problem, and the sooner you seek out help for your shopping addiction, the better.
The secret shopper
Are you honest with your loved ones about where you are going? We all do this to an extent – at Christmas time or for a family member's birthday, for example. But if you are lying or being dishonest about where you are going when buying for yourself, it's a sure sign that you are embarrassed about your activities. The simple truth is that if you aren't open and honest about your shopping habits, you are trying to hide something – from your family, and maybe even from yourself. You are looking for lack of interference, perhaps even subconsciously. And, you are developing a problem that could cause you a lot of heartaches soon. Again, speak to a shopping addiction service sooner rather than later – and come clean to your family. They will be able to give you the support you need to approach your addiction.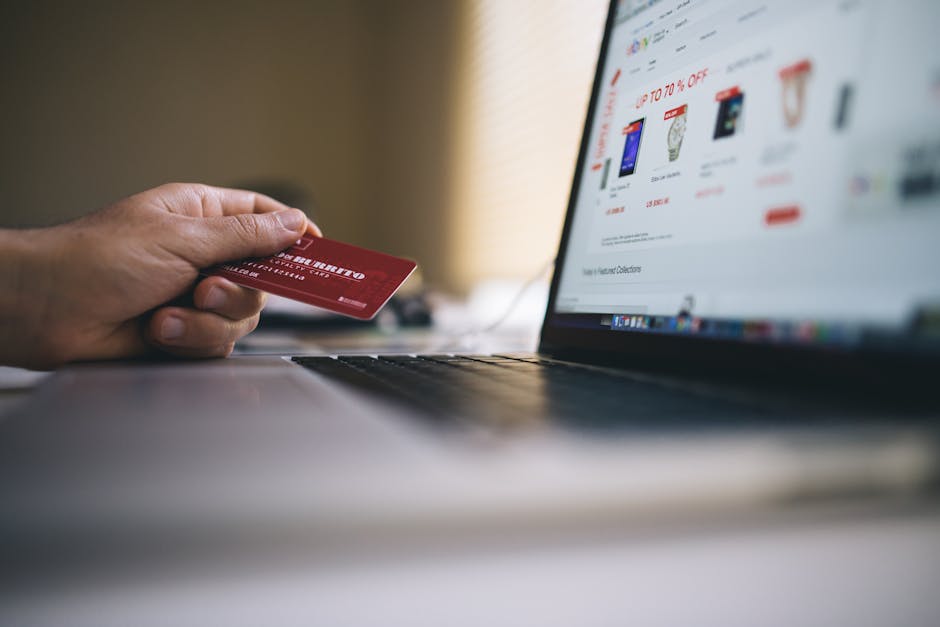 [Photo courtesy of  Negative Space/pexels.com]
The non-stop buyer
As I mentioned above, it's so easy to shop online these days – so much so that it is pretty scary when you stop and think about it for a moment. Take Amazon, for example. You can pay for something with a simple click, and it will be with you the next day – perhaps even the same day. But because you aren't really thinking about the purchase, it seems like it isn't a problem. If you are going through that process several times a week, the spending will quickly add up – and you will be in financial trouble sooner rather than later.
The credit buyer
Are you buying everything on credit card? If so, it's a sure sign you are getting yourself into trouble. Not all debt is bad, of course, and there are even situations where cash loans and payday loans can be useful – if you are struggling to pay your bills at the end of the month and can guarantee you will be able to pay them back quickly, for example. But the truth is if you are using credit for shopping purchases without a plan in place to pay it back, there is danger on the horizon. There are horrible stories of shopaholics spending tens of thousands of dollars on credit, without the financial power to pay it back. The result can often be bankruptcy, court cases, and a whole bunch of trouble from debt collectors. The solution? If you want something, save for it. The time you spend saving will make it a much more worthwhile purchase. And, by the time you have the money to pay for it, perhaps you will realize that you don't need that investment in your life after all.
The non-useful purchases
Another common trait of shopaholics is that they often have cupboards stuffed full of things they never use. It could be clothes that are left in the wardrobe, unworn. It might be DVDs or CDs that stay in their shrink wrap for eternity. Or, it might be something that you only ever use once, before it gets packed away into the back of the cupboard forever. If you are buying things that you don't need or use less than planned, you have to question why you have made the purchase in the first place. The chances are it is because you have a shopping problem and need to seek some help.
The happy shopper
Is shopping the only thing in the world that makes you happy? If so, it's a big issue and one that needs to be headed off at the pass – sooner rather than later. Buying shiny new things can give your brain a rush of endorphins and make you feel good. And if it's the only think in your life that does that, it's no surprise that you might end up as a shopaholic. Like any other addiction, when you aren't shopping, you might feel grumpy or upset if you can't buy what you want. And if it's the only thing in your life that is helping you to relax, it will quickly turn into a very expensive habit. If this sounds familiar, it is advisable to look at the areas of your life that are causing you sadness, and work on them. Go to see a counselor or therapist, rather than turning to Dr. Amazon.
The hobbyist
Is shopping just something you 'do'? Again, it's a sure sign you are heading for massive issues in your life. When shopping is a hobby, it's easier to lose control and more likely to become a habit. You should be looking for other activities to fill up your time, rather than always heading to the mall, or visiting online stores. Think about taking up some gym classes, or start pursuing an arts and crafts interest instead. Even reading can help you curb your spending, as the more time you have your nose in a book, the less it will spend looking for new purchases.
Do any of these scenarios sound familiar? If so, there is a good chance that your shopping habits are a little out of control. The quicker you reign yourself in and seek out help, the better. Many places can give you help with a shopping addiction, so investigate all of them, from online advice to professional services. Good luck – and try to curb your spending before it's too late!
It's pretty much unanimous that everybody enjoys Christmas. It's an important celebration for many of us as it allows us to take some time of work and reconnect with our families – something we don't get to do all that often. It is also a time for us to show our appreciation for the ones we love, by giving them gifts. However, after so many years of doing it, a lot of people find that the whole process can become a bit stagnant. Trying to think outside the box for gifts becomes harder and harder each year. Many of us don't entirely know what will truly make our friends and family happy. This can be a real shame, as it can cause us to become stressed and thus forget about the true meaning of Christmas. So if this sounds like you, and you're ready to make a change this year, take a look at these ideas for meaningful gifts that will put a smile on your family's faces.
[Photo courtesy of Actina/pixabay.com]
Donate to charity
Know someone in your family who doesn't really care for material things, but who loves making a difference in the lives of others? A charity donation in their name could make an unusual but perfect Christmas gift. Many charities allow you to donate to them as part of a process called Gift Aid, where you donate money under another person's name. The person you choose will receive a thank you pack from the charity letting them know what you have done for them, and they will continue to receive updates about how their donation is making a difference. You can choose a local or an international charity and the amount is up to you. But you can be sure that it is the kind of gift that will keep on giving.

Look further afield

Only go in the same six stores around Christmas time? Well, that's probably the reason why you feel as though you are giving the same gifts away every year. There's only so much you can get on your local high street, after all. If you want to find a gift that you know your loved one will be happy with, you may need to extend your search. Online shopping is a great way to do this, and it's never been easier. There is plenty of inspiration right at your fingertips, such as luxury gifts and present ideas from Cuckooland.com. Plus, you can do all your shopping from your bed – meaning you avoid those crazy Christmas queues!
Make an effort
Sometimes, the best gift you can give is the opportunity to create a memory, rather than a physical object. If you have a family member you don't see all that often, arrange to do something with them as part of their Christmas gift. This could be taking them out for dinner, or it could be paying for them to do something they've always wanted to do, such as a driving experience or a cookery class. Go along with them and enjoy the experience together – when a gift brings you closer together, it immediately becomes all that more memorable.