Archive for September, 2015
Buying gifts for the blind elderly is quite a challenge since they cannot instantly relate and appreciate the physical form of the items given to them. The giver of the gift must consider things such as the preference, interests, safety, and lifestyle concerns of the blind recipient. Although challenging, understanding the need and limitations of a blind person can guide you in choosing the gifts that would make her/him happy and comfortable.
Handicapped or disabled persons are in an unfortunate situation but this does not mean that it is the end of the world for them. One major concern of the blind is their general health. Who would take good care of them, prepare their food, bathe them, and guide them in their situation. Issues and questions on Senior Transitions from the usual routine to a totally different way of life can be very drastic and sometimes hard to cope.
Family members should be able to sense this stage to help the disabled elderly back to its normal life again. The person who is taking care of the blind elderly must be able to understand the situation to give the appropriate love, care, and attention especially on his/her health. Treating them like a normal and capable individual will make the disabled person feel adept.
Although amenable with their situation, it is still best to make the elderly feel appreciated and loved by celebrating special moments with them and showering simple but memorable gifts on their important day. Helping sightless elderly live in the light and live life to the fullest is such a challenging but noble act especially if you are doing it to the person that is dear to you.
The increasing use of tablet computers and smartphones allows us to be more mobile, accessible, and efficient. These devices allow individuals to organize a calendar, leave a reminder, set an alarm, and do a host of other tasks. However, if individuals want to be more productive during the day, then they will can use five apps to achieve this goal.
Dropbox
This is a cloud storage app that allows users to share files between multiple devices. Users may upload various documents, photos, and even videos to keep in the cloud. The app needs to be installed on your smartphone and on a desktop computer at home or at the office. This allows users to access documents or other files from anywhere Internet access is available. Files will be synched to any connected device automatically. A link to a stored file can be sent via email.
[Image courtesy of FirmBee/pixabay.com]
Apple iWork
The iWork suite from Apple is actually three business apps. There is Pages, Numbers, and Keynote, for the iPhone, iPad, and iPod touch. Users can edit a presentation, spreadsheet or document right from the device. Editing can easily be done by using an on-screen keyboard. Another benefit is that files may be saved as a PDF for sharing and viewing on other software programs, such as Microsoft Office. Sharing of files can be done using iCloud or iTunes File Sharing.
GoToMeeting
Meetings that need to be scheduled as a reminder can be done using this app. Multiple users of this app are able to share files that include reports, presentations, and spreadsheets. A user can send an email for a meeting to anyone even if they are not users of the app. This app also includes GoToWebinar you have if a video conference is required. You can conduct a video conference with up to six people on an iPad, an iPhone, and even an Android device.
Evernote
Business owners who need to keep various notes and archive photos or web pages will want to use this app. You can install the app on an iPhone, iPad, and an Android device. A simple search can be done to find information that has been stored. Data that is stored on the app is processed and indexed for you to search from your mobile device or even a desktop computer. There are many ways to use this app to be productive and well-organized. You can easily share notes and other data.
Quickoffice Pro
Users who want a way to quickly edit documents when not at their desktop computer will enjoy having this app installed on their mobile device. The app can be used to create and edit documents for use on a computer with Microsoft Office. There is also a file manager application that allows you to transfer files to Dropbox and other services.
Apps that can be installed on a smartphone or mobile device allow users on the go to easily complete a needed task. This is crucial to meet deadlines or access information when out of the office. If you're on the road frequently, consider renting a Servcorp virtual office so that any phone calls and mails are taken care of while you're away.
Written by Beth Gadd
It is important for you to buy your medical office supplies from a quality company. There are many types of supplies that can help make your life much easier if you are working with a senior or someone who is disabled. Be sure to use reliable products that can help you to care for people with ease.
Gloves
Gloves can make it easy to work with or exam disabled or senior patients. You can find a variety of different glove types depending on what you need. There are sterile gloves and non-sterile options. There are latex or Nitrile options. Powdered or powder-free gloves are also available.
Medicine Cups
Medicine cups can be a great purchase. You can find cups made of plastic that have measurements on them to make sure that you are giving out the proper dosage of medicine. You can also find disposable paper medicine cups that are perfect for pills.
Blood Pressure Monitors
If you need to keep up with blood pressure levels, a monitor that you can use anywhere can be a great purchase. You want to find a product that is easy to read and that will give you accurate test results. There are some models that offer memory of past readings so that you can compare results. Some models also offer features like a pulse rate indicator. This type of product can help you to care for elderly or disabled patients with more accuracy.
[Image source: whereis.com]
Bandages
Bandages come in many different sizes and shapes. You want to make sure that you have a bandage that will be right for just about anything from a small cut on a finger to a large scrape on the leg. When you are working with an elderly or disabled patient, you should always have a wide range of bandage options available.
When you are working with senior or disabled patients, it is important to have the right tools. You want to be ready in case anything were to happen. There are many products out there that can help you on a day-to-day basis. Figure out what type of products you are going to need, and make sure that you purchase them from a reliable company that will deliver the items to you in a timely manner.
Freebies are used as an attraction for consumers to buy a certain item/products in the market. The other day while we are browsing through the aisle of a pharmacy/super market something caught my sister's attention; it was Head & Shoulders shampoo with attached kit or freebies.
The freebies are blue watch, comb and sunglasses. Since my sister is into sunglasses they end up buying a box that which is initially price P530.00 but with the discount of P330.00 it only cost P200.00.
Music is already part of our daily life, there is no silence inside our house when they started playing music. I sometimes ended up complaining for not being able to take a nap or think of something to write for my blog. These past few weekends we always travel to the neighboring town to wander and fetch my father and since it is quite boring traveling in the road alone, they always turn on their phone music player and listen to music through headphone. I have thought of looking for headphone amp review since I always wanted to amplify the sound of my phone or laptop when I am watching some movies.
A bag is one of the most essential things to carry for most women; this is where we keep personal things like wallet, makeup-kit and other things that are deemed essential to us.
When we travel to the town where my father is currently working, normally I used a backpack to keep my camera, bag, towel and other personal items. It was a bit bigger so when we happened to visit Natasha/MSE shopping outlet, my mother suggested I should buy a smaller bag for my camera so it won't get broken. At first I was a bit hesitated because I didn't like the bag material, once I had a bag made of man-made leather on my grade school years and it break apart in the sleeves but since I love the color of the bag I ended up getting it. It was not a cash basis; it is one month to pay. I took it because I have thought maybe if I only put lighter things inside the bag it won't easily break apart.
The MSE Movado bag is bright in color, aqua to be précised. It is very modern and sassy, and eye catcher with its cute design.  It is small on size of 12" x 5 ¼" x12" and as I have mentioned the material is man-made leather and cost of Php725 or $16.11.
The next weekend we went out of town I decided to use, it was very comfortable to carry with only lighter things inside and as expected we just wander around a bit to take some photos and use the internet and when we returned to my father's workplace while waiting, I have noticed that the bag is breaking apart already. I felt disappointed knowing it was newly bought and I have just used it for the first time.  I guess, as expected the bag made on man-made leather is not durable, the quality is not that strong.
In the past, the only consideration to be made when purchasing a men's wedding band was the size. The ring, which was typically a thin band featuring yellow gold, was all that was needed. However, today, there are many more options and considerations to make. From custom stone-encrusted rings to mens black wedding bands, there are endless options. Some tips to help you choose the right one for your fiancée are highlighted here.
Budget
While the women's ring is likely going to cost more, there are men's wedding bands offered at all price points today. This means it is a good idea to establish a budget ahead of time. This budget will help ensure that no overspending takes place. Take some time to ensure the price is right prior to making a purchase.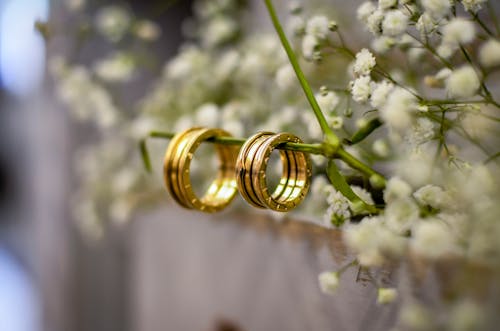 [Image courtesy of Glauber Torquato/pexels.com]
Match or No Match?
Another important consideration is whether or not the men's band should match the women's. Some people want to have wedding bands that match, while others don't. This is a decision that is totally based on preference and one that should be considered carefully in order to ensure the right bands are purchased.
Comfortable and Durable
Men are notorious for being rough on jewelry. This means that the ring purchased needs to be durable, while being comfortable. This will help to ensure it can stand up to the daily wear and tear it will be exposed to. There are some golds and metals that are softer than others, which means they may be damaged more easily. Take some time to ensure the right ring is purchased for the person based on the wear and tear it will be exposed to.
Do some Research
While there are a number of things to consider when purchasing a ring, it is essential that you do plenty of research ahead of time. This will help ensure that you know where to shop and where to find a ring that fits in your particular budget. Failure to research the options may result in purchasing a sub-par ring that no one really wants.
More information can be found by visiting the Northwood website. Here couples can browse a number of different men's ring options until they find the one that is right for them. Doing this will pay off in the long run and help ensure the right ring is purchased for the person. Don't rush into a decision since this can result in too much being spent or the wrong type of ring being purchased.
Shopping is really one of the best thing to do when your depressed and sad, it makes you happy and forget things in an instant but afterwards you are back in being depressed and it is much worst because you end up broke and penniless. I am not feeling well since these past few months because of personal reasons, my life was hit by a big turbulence and there is no way up, only to go down.
Well, the other day I feed my depression of material things; I bought myself some useless things. I bought wants and not needs. One of the thing I recently bought is a wallet; it was seven years ago since I bought a new wallet, my old wallet was already old and torn.
The wallet was from MSE (Marikina Shoe Exchange) and was a bit smaller compare to my old long wallet. I choose a smaller one so I can easily keep it on my small bag and bring it with me, unlike my old wallet it was quite long to carry.
Visa wallet is smaller with the size of 6 ¼" x 3 ½", it is made of man-made leader. The outside color is Taupe while the inside is dark pink which is a perfect color combination making it chic and sassy. It has 3 slots for card, picture, a purse which is perfect for coins and four compartments for bills. Since it is not genuine leather it is cheap for the price of Php275 or about $6.11. I immediately moved the cards from my old wallet to the new one; I just choose the important ones since it has only 3 slots, perfect for my postal ID and two bank cards, aside from the cards I moved the two crispy small bills, they are part of my souvenir bills so even my wallet has no money in it at least it is not that empty, isn't it?
Tools of the Trade
Food competition reality shows are big audience draws on television. Every day viewers can share enthusiasm with contestants vying to win a cupcake war, develop delicious dishes with secret ingredients, and chefs trying to become the last one standing to reach the top. A common thread in all shows is the use of top-notch culinary tools and equipment, just what you need for your kitchen.
Only the Finest
As you watch contestants race to get their food cooking, you'll notice knives cut onions like they were butter, pots and pans heat food quickly and uniformly, and every range and every oven has precise temperature controls. Each equipment type is manufactured with certain cooking methods in mind. For instance, ovens aren't merely ovens. Bake ovens are designed to handle multiple volumes of baked goods. Convection ovens are prized for their ability to cook just about anything with even, consistent results. Pizza ovens are designed to produce the crispy, chewy crust unrivaled by any ordinary home oven.
[Image source: back2backministries.files.wordpress.com]
Time Savers
Chefs don't want to spend more time than they have to preparing a meal. Good quality tools save time. For example, anyone who's tried to hack through fruits and vegetables with a dull knife, is well aware of how much time can be saved with quality knives. Besides sharpness, balance, blade and handle forged as a single piece, and ergonomic grips are all factors in choosing a knife that delivers optimal performance whether it's a paring knife, cook's knife or Nakari knife.
Clean-Up
Once food has been prepared and served, it's time for cleaning utensils and equipment. Commercial dishwashers get your tools sparkling and ready for the next round. Under counter, conveyor, and front door models are available. Whatever your preference, you will find one for your needs.
You won't find cut rate equipment used on any cooking reality show. Restaurant quality spatulas flip food in high grade stainless steel sauté pans that repose on commercial range burners. The equipment is a testament to the old idiom that you can do anything with the right tools. Regardless if the saying is 100% accurate or not, quality tools of the trade make cooking easier and more fun. Such restaurant supply online stores as Mission Restaurant Supply carry the equipment that makes your kitchen into a reality show all your own.
Coffee as a beverage had been around for thousands of years before it reached the New World. Had the British not caused tea costs to skyrocket in the 18th century, coffee may not have such a prominent place at breakfast tables around the world or made its way to cultivation in the warm climates of South America. Brazil emerged as the world's leader in coffee bean production in the mid-1900s. Consumers claim taste is the most important factor when choosing their coffee whether in retail markets or dining establishments.
By Any Other Name
From its humble beginnings, so various legends go, as an accidentally roasted berry boiled in water, coffee has become the world's most widely consumed beverage. Furthermore, asking for coffee has evolved into quite a science. Pseudonyms for coffee began as far back as its first exports from the port city of Mocha. Likewise, the island of Java lent its name to a synonym for coffee. The typical phrase, "cup of joe" in American slang may well be a derivation of the slang term, jamoke, which is a combination Java and Mocha. At one time, these two locations were considered as best coffee producers in the world.
Coffee Evolution
Espresso is a popular way Europeans drink their coffee. To brew it, high pressured water is forced through finely ground coffee that has been tightly packed into a very fine sieve. Special tools called espresso tampers are used to compact the coffee so no water "runs" too quickly through the grounds. Espresso is ordered by the standard 1-once shot, or as a variation of the shot. A ristretto, or short shot, is the first 3/4-ounce of an espresso, A lungo, or long shot, is a shot and a half, and a double shot is, of course, 2 ounces. It wasn't long before sugar and dairy products were introduced into the inky black elixir. Espresso is the starter for many types of sophisticated coffee drinks, which have morphed into an ordering art:
Latte- a shot of espresso mixed with a cup of steamed milk, and then topped with foamed milk.
Machiatto- a shot of espresso topped with a layer of foamed milk.
Cappuccino- a shot of espresso topped with steamed milk.

Across the globe, we do indeed enjoy our coffee in all its blends and creations.