Hair is the crowning glory of every women, a beautiful hair can instantly enhance the charm of someone's personality. So everyone love to own a healthy and shiny hair.  I am using different shampoo every time, I am not the type of person that has only one shampoo on their hair because it seems I can't find the shampoo that is right on my hair.
As I want to try something new I try using  Dove conditioner and it was one of the best decision I made because it made my hair soft and smells good. Conditioner is designed to smoothen and hydrate your hair, while maintaining the health of your scalp. The great thing about a conditioning shampoo is that it prevents dryness, while ensuring soft strands.
When my Dove Damage Therapy Conditioner is already empty I would like to buy new bottle but they kinda expensive for me so I search for a good deal in gmarket and I found a buy 1 take 1 deal, two shampoo for the price of one and you can buy conditioner for half price I immediately ordered 2 sets of shampoo and conditioner and a dove bar soap as well. I was very excited when my order arrived, I was delighted when I also received set of freebies.
Looking for a perfect gift is not the easiest thing to do if you want to impress the receiver. Women have different tastes for the kind of gifts they want on their special occasions, be it their birthday, anniversaries, or any other kind of important occasion.
If you're mother is celebrating her birthday anytime soon giving you should consider giving her mothers rings cheap , what I mean mothers rings that you can buy in affordable price online. The good thing about these rings are you can personalized them and choose the birthstone you wanted.
If you were to wake up tomorrow morning to discover that you suddenly inherited £15,000, could this amount of currency change your life for the better? You probably will answer this question with a hearty "yes." Think of all the things you can do with this amount of money. You can put down a large down payment on a house. You may wish to buy a new vehicle. Perhaps your mum needs a few new kitchen appliances. The list of things you can do with £15,000 is endless, but first you need to have the cash in your possession.
One way to obtain the large sum of £15,000 is to apply for a loan. You can either apply via a bank or one of the companies offering popular  loans. If you want to receive a loan from a financial institution like Clydesdale Bank , you will need to pass certain criteria before you receive approval for the loan. Payday loan requirements are not as strict. The catch with a payday loan is that you need to have a job in order to obtain one of these types of loans. Additionally, if you do not pay back a payday loan on the due date, you can end up paying a very high amount of interest.
[Image not Mine]
One thing to consider when you receive your £15,000 is whether to save the money in a savings account or invest the money via the London Stock Exchange. If you can find a savings account that pays good interest, you will not risk losing any of your money. The stock market fluctuates widely, so if you do not want to take any risks, stick to the savings account.
Perhaps you are not the type of person who saves money. You may want to spend all of the loan amount for specific items you need. If a new vehicle that uses less petrol petrol will help you save money when you commute to and from your job, then you may want to consider this option. You may not enjoy living in your current flat. You can use a portion of the £15,000 to move into a better flat with more amenities.
Even though having £15,000 can change your life in some ways, remember that your happiness does not revolve around the amount of money you possess. Extra funds can help you to move over a financial hurdle, but supportive friends can assist you when you fall.
James Wilson is a keen blogger who writes on a number of topics. James is most at home writing about finance and green energy, you can find more of his work at The Financial Newsgroup.
**Image credit leadership-idn.com
Guitars come in different shapes, quality and sizes and buying guitar for beginners is a difficult task.  The solidity of its built, the sound quality and weight are the first thing you should check before buying  a guitar, the guitar should be manufactured with quality control while getting a light weight guitar  is perfect because it will help you to play well and comfortable.
[Image credit]
If you want to build your own guitar you must know that you can buy guitar parts at guitar center or guitar kits from various shops  online.  Assembling the guitar comes in various stages of construction, either you built it or built the guitar from scratch.
Shopping online is the cool trend nowadays and  the greatest way to save money, you will get the best prices, find deals, coupon codes and even receiving exclusive freebies. It is also more convenient rather than spending hours in local stores near you.  Online shopping also gives you a variety of choices from groceries, electronic gadgets, beauty products, clothes and a lot more, yes you can buy anything without visiting  a shop in person.
[Dove Hair Therapy Shampoo and Conditioner with freebies from a gmarket seller]
One of the well known shopping portals in Korea is Gmarket.com where you can almost buy everything from home needs to personal needs. We've been buying items in gmarket for years already, it was very convenient to us because we don't know how to communicate in local language making it hard for us to tell the shop owners what we want to buy. Gladly, Gmarket has English language options for easy shopping, when some option items are still written in local language we use google translate toolbar online to understand what we are buying.
In this month alone we had 6 purchases from Gmarket from bag, food, fitness items, beauty products and electronic gadgets.  The delivery of this products are excellent, they arrived very quickly (in two days) and in great condition as well.
[Nikon Coolpix S3300 bought it on 47% sale in gmarket.com]
Shopping in Gmarket is not just convenient but also safe, they accept different types of payment from credit card, Paypal and bank payments. Many of the sellers provide tracking information about your purchased, you can also exchange the item you purchased free of charged if it is defective.
Gmarket also ships internationally so shop now at Gmarket.com or follow them in twitter @GmarketGlobal  or visit them on Facebook  https://www.facebook.com/GmarketGlobal.
When women want to look like they have just stepped off of the runway, High by Claire Campbell is a contemporary design with a sexy woman in mind. High was created by Claire Campbell with three main points in mind in her designs: quality, design and utility. When wearing High by Claire Campbell, a woman is sure to get excellent value with these glamorous fashions.
The designer line, High by Claire Campbell combine traditional styles with unique details all with excellent craftsmanship. A plain black blazer might be glitzed up by adding lace trim to give the blazer a whole new look. Sunday Best in the United Kingdom, an online retail site, offers many of the latest styles from the High line created by Claire Campbell. Inventory is currently changing as High by Claire Campbell changes with the seasons.
Keep up with the current fashion trends and choose an outfit with the High label that is flattering to women. A chic pair of cargo pants are functional but in a floral print, are also feminine and classy. Pair it with any adorable vest or layer it with a cardigan, thrown with a pair of heels and you are creating your own fashion statement.
[Image credit: higgovalefd.com.au]
Items are designed for both every day wear and for special occasions. Ever wonder what you might wear for a night of cocktails? How about a little black dress that hangs just slightly off the shoulders?  Paired with a belt, a dress like this, a woman like you is sassy and ready for a fun night on the town.
Whether it is ruffles, lace, strings, empire waists, asymmetrical hemlines, ruching or zippers, High by Claire Campbell does not leave any detail left untouched. Claire Campbell's designs are uniquely her own but you can take her high-waist pencil skirt with zipper details and pair it with a military style blazer and a plain blouse.
Sunday Best carries only the latest fashions by some of the top designers from all around the world. Pieces are stylish, feminine and any woman can find exactly the ideal piece or outfit to add to her wardrobe simply by shopping anytime and anywhere. Following the hottest trends, the pieces are a very good value and vary from floral and romantic to edgy and unique. High by Claire Campbell is an amazing designer label that is an example of variety that is available online.
The box below is one of my latest purchased from Gmarket after finding a good deal. I have been looking for sun block lotion that I could use on our forthcoming vacation in Russia and I was glad to find them online. They're cheaper rather than buying in the store, I bought the pair as 1+1 i would made a review when I already used them, the package arrived together with my other order which I will blog next time.
The Nivea Sun lotion is SPF50+ as well as the face sun block whitening cream. I am already excite on using them and trying if they are effective.
When the 1.1kg of oatmeal we bought from Asian store was all eaten my husband asked me to look for Quaker Oats on Gmarket. When we found a good deal we immediately add the item on my shopping cart and ordered it. In just few days we received it.
This oats is a good deal for  ₩36,900,  it contains two bags with total weight of 2.27kg. It's cheaper compare buying  the 1.1kg oats.  I took the second picture today after we already opened the first bag so the second bag is already less oats.
One of the things I love is shopping when there's sale on Watsons in the downtown, I spend most of my allowance buying beauty products like lotion, moisturizer, shampoos and conditioner.  With this habit I end up collecting a lot of beauty products that I seldom used,  I decided to send them home  to my family to free up some space when we moved to a new apartment.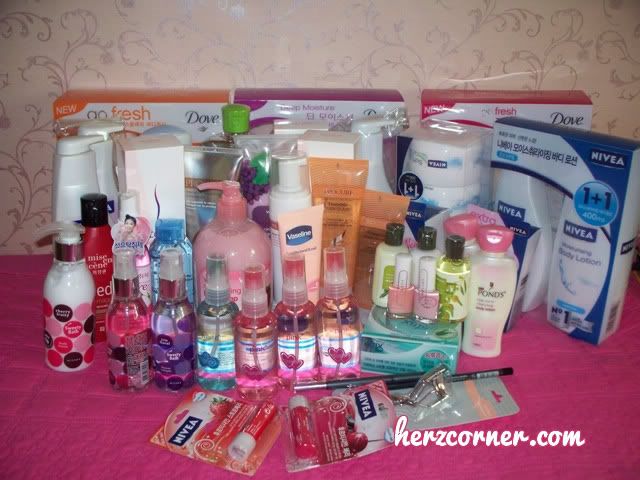 Today while browsing at online market I found out that it is less expensive to buy online rather than in stores, I found a lot of good and cheap deals. I am very tempted to buy especially if they are on 50% less and with free delivery.
The bag I ordered in gmarket already arrived few days ago, it was quick delivery. The courier actually cannot find our area so he called the number I gave when I order and my husband co-teacher told him to just deliver the package in the school the next day.
The bag is small and cute, the material was good but I'll wait after we travel.  My husband teased me that the reason I bought this bag because of the apple logo on it. The bag has free button pin and a lotto ticket, not sure if I won. Haha