Archive for January, 2013
Credit cards may sound like an appealing option for making larger purchases, using for online shopping, or even as a means of covering your financial shortcomings before the next pay, but be warned: credit cards are often more harm than good, and here's why.
Debt is Hard to Get Rid of
Racking up a credit card debt isn't as simple as buying now then paying when you have the money. You're charged interest on every spend, and you'll have to pay off a certain amount each month and often there are other fees involved. The slower you pay your card debt off, the more interest you're paying in the long run.Unforeseen circumstances might prevent you from having the money to meet your repayment requirements, meaning late fees, bad credit or worse – there's no reduction or stop on payments when you hit hard times.
All of these factors mean that getting out of debt can be far more of a challenge than you expect, and it's certainly disproportionate to the ease with which credit cards allow you to spend that money in the first place.
Late Fees and Interest
It's so easy to make purchases on a credit card without considering how much more the item will actually cost you in the long run after all the additional and sometimes hidden costs. You'd probably think twice if you calculated the actual cost of an item after all the fees and interest that the purchase will incur.Accumulating interest makes it difficult to get on top of your debt and credit cards usually charge quite a high interest rate compared to other personal loans.
Also consider the ramifications of late payments – it's not just fees you'll have to wear, but your credit rating can be damaged and this could affect other financial matters down the track.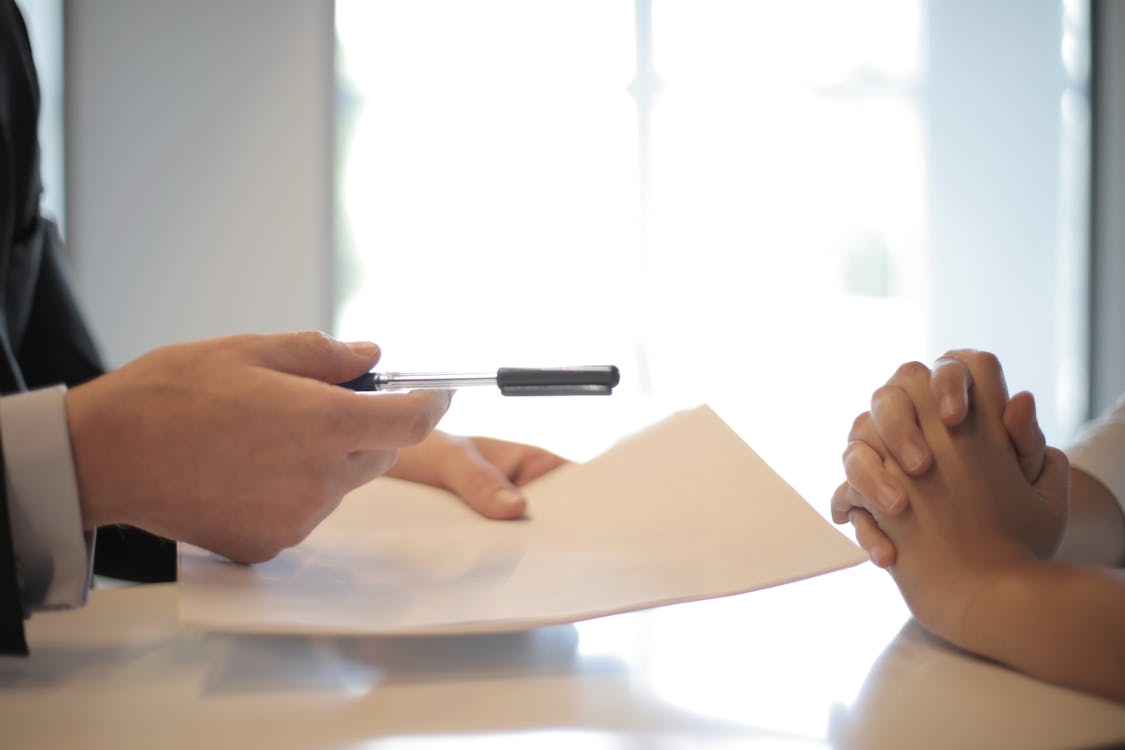 [Image courtesy of Andrea Piacquadio/pexels.com]
People Spend More on Credit Cards than Cash
Studies have revealed that people tend to spend 12-18% more on credit cards than when using their own money. This is generally believed to be because people are less willing spend when they can feel the effects of parting with their hard earned dollars at the checkout. Credit cards remove this feeling and don't allow for the customer to ask him/herself "how much money have I got left?"
Increased Risk of Fraud
Credit cards are easy for thieves to use, they only need to hold the card in their hand and they can make any purchase online, or even in person. All it takes is a swift pickpocket or a lapse of concentration, leaving a bag unattended, and you're immediately susceptible to fraudulent purchases being made in your name.
Makes Impulse Buying Easy
Rather than having to save up the cash and work hard toward your goals, credit cards allow you to make purchases with little consideration. They take out the legwork of working hard and saving until you can afford what you want, and replace it with a quick and easy approach to buying things you might not even go to the effort of saving for if they were harder to obtain, and things that you may not actually be able to afford, leaving you with a debt you may not be able to manage.If you added up all the extra costs incurred by purchasing an item on credit, you would probably be far less likely to make the purchase. Credit cards make it easy to commit to these additional costs without really understanding them, or even considering them.
If you've already fallen into the trap of buying on credit, the best thing you can do is stop purchasing on your card, pay off that debt as soon as possible, and cancel your card.
If you're already having trouble staying on top of payments, you might consider looking into financial advisors or loans consolidation to help you get out of debt as quickly as you can. Always be sure to go with a provider that's well known and offer plenty of options, for example, Fox Symes, Australia's largest provider of debt help. It's never too late to get help and get your finances under control. Check out the Fox Symes blog for some excellent ways to save money and fine tune your finances.
Katie is a Finance Writer from Queensland, Australia. She recommends avoiding credit cards wherever possible, but recommends the professionals at Fox Symes for assistance should you fall into debt problems.
Shopping online is becoming more popular as the day goes by, more and more online stores can be found over the internet. Online shopping could be easy if you are well experience shopper and has a first hand experience on the item you are buying. If not, you should ask yourself some question if you are buying online, one of the first two things you should know before adding items on your cart is the payment method and shipping process. Take time to look if what payment method they accept and how long the shipping process as well as the costs don't just hit the shop button.
[Image courtesy of FirmBee/pixabay.com]
Knowing about the product you are buying is also a must , you should have an idea about it. Don't just buy something because it is cute or it was on sale, take time to research online and read reviews about the items you want to purchase especially on buying beauty products.
Budget is also one thing you should consider on shopping either online or at a local store. You have to take note that you are sometimes paying the name of a product rather than the quality of it.
These is just few of the things you should consider on shopping online, it is better to think twice than sorry.
When I went home to Philippines my mother bought me a white Nike Shoes (Nike Dunks SB Women) so when I return to Korea I left my old shoes but as expected no matter what kind shoes I am going to wear it wouldn't last long to my feet.  When we traveled to Myanmar most of the time we have to walk barefooted to visit temples everything went fine not until the day we have to left the country, we still have few hours before our flight so arriving back to Yangon we decided to hire a taxi that would take us to few places we didn't visited yet and there's the accident happened.
As already bit lazy to tie my shoe I just slide my feet inside and walk after my husband so he can take a photo of me before he keep his camera, right after I have found our my shoes was bended as I stepped on it like a sandal.  When we arrived in Korea my husband cut it from the inside and he found out the plastic support of the shoes was deformed, so he cut it leaving my Nike shoes torn from the inside.
As I felt it was too embarrassing to wear my pair of shoes in the gym with open hole in the inside I decided to browse for a cheap pair of shoes in Gmarket, I found few shoes on sale but the problem is I don't know my shoe size in Korean so I look inside my old Nike shoes for my shoe size and search online for a converter.
I was able to find my Korean shoe size so I ordered the shoe I like together with the black bag. The shoe arrives two days late with the bag, it was delivered minutes earlier before we left the gym I think the delivery guy has been told by the landlord or by my husband co-teacher that we are out during that specific time.
I have ordered a bag and shoes online and the bag was delivered first. When I look in to the tracking sent by the sender I already known that my bag will be delivered that day. When time came and we have to go to the gym I have no choice but to forget about my bag, I didn't received anything until midnight.
On the next day our landlord ring our door bell and there I saw him holding a parcel, so I have thought it was given to him but it turns out the delivery guy call the number I add on the delivery address, which is my husband's co -teacher's number and then she called the landlord to get my stuff.
Anyway the bag is more of  a school bag I bought it for my husband as the bag I have given to him is not usable anymore, the sleeves are ripped apart. This bag is not expensive I just bought it very cheaply and it was on sale too.
The bag is part of  Urban Luggage Collection and manufactured with all weather type so I hope this bag will last long, I am not sure if Hittbag is the name of the bag or the type of the bag but that's what I have read in the brochure.
Not afraid of a bit of wind and rain? Then a late, wild winter weekend could be right up your street. With the right clothes and equipment, you can blow away the cobwebs for a couple of days and come back refreshed and ready to tackle 2013. Kit yourself out today in great quality walking trousers, boots, fleeces and more for a walk on the wild side.
What makes a good pair of walking trousers? First, they must fit well and be comfortable. If you're planning on walking several miles, the last thing you want to feel is that your women's trousers are too tight and uncomfortable to move in. Most walking trousers are designed for practicality rather than fashion, but it's still worth looking at the shape and features on the walking trousers you're considering so that you are confident they are right for you.
After comfort comes function. These are trousers or womens chinos that are likely to see poor weather and rugged terrain and they need to be able to handle it. Whether you're buying men's trousers or women's walking trousers, don't just go for the cheapest option, because you'll find you have to buy another pair before too long. Instead, look for track pants that are made from material that aids quick drying, has a side opening at the hem so that you can get them on and off over walking boots and has pockets so that you can keep snacks handy as you go.
[Image courtesy of Olichel/pixabay.
com]
You'll also want to consider price. Cheap walking trousers aren't really an option, but you can get great quality trousers at a good price if you look for bargains or sales where you can find really good value for money deals. At the same time, consider buying yourself a good pair of walking boots. Walking in trainers can damage your feet and with no ankle support, it's easy to fall over on rough ground and injure yourself. So look out for good deals on walking boots with ankle support and sturdy construction that can help you get out and about safely and comfortably.
With comfortable trousers to walk in, boots to keep you stable, warm fleeces and under-layers to keep the chill out and smarter clothes to change into when you get to the other end, you'll be perfectly set up for a winter weekend to remember – for all the right reasons.
About the author:
Emma is a fashion enthusiast who is always looking at the latest trends and keeping herself up to date in this ever changing industry.
I recently bought a pair of sneakers online, I found them on sale so I grab the opportunity to buy a pair. It was cheap,  the design is very stylish and perfect for the shoes I want. The available size is 250 I am not sure if the shoes will fit me but I still buy them and just in case it is too small I will just send it to my sister.
Aren't they cute? I have ask my husband if they are ladies sneakers he said they look unisex so I add them into my cart.
The backpack I gave to my husband from Boardwalk didn't last long, after few usage the straps were rip.  I thought the quality is good but I was wrong with it, my husband dispraise me for giving him a low quality bag because he throw his old bag which is a way better than the new one. So I am thinking of buying him a new bag and this time I want to give him a good bag so I search a bag  from an online store.
It was love at first sight when I saw these bags (picture above), I so love the style and design but it is a bit pricey so I look  for more designs I have found two but I kept coming back to see this design again. So I might purchase two bags one for me and my husband. I preferred the pink or red color for a change but it was sold out already what is left is dark gray, blue and light gray.
This bag is good for traveling and I think my husband DSLR camera bag will fit on this bag.
Many women have weight problems, and it is common knowledge that losing a few extra pounds can be a struggle. However, as the latest fashion news indicates, this does not mean that a plus sized lady can not flatter herself. And one good way of doing this is to wear clothes that will make you appear, or at least feel, slim. Follow these basic rules to slim down via your clothes.
Be Size Sensitive
Do not make yourself wear a garment that is obviously too small. However, do not wear something that covers you like a curtain either. Just choose the size that fits your body – not too loose, and not too tight.
[Image not Mine]
Black is Best
Every plus sized woman loves the color black, as it creates the illusion of leanness. There are many ways of wearing black, and it is a trendy color as well, because virtually everything goes well with it. Black tops are best for women who wish to conceal the flab in their stomach, whilst black leggings or pants are ideal for women who have large legs and wish to tone these down.
Opt for Print
Prints produce an optical illusion which stops people from clearly seeing whatever lies beneath. Prints make it hard to form a vivid picture of the flab in your mind, because the different colors and shapes make the fabric awkward to analyze. Darker prints are perfect for causing the body to appear smaller than it actually is. Lighter colors need a bit more work.
To Stripe or not to Stripe
Stripes are somewhat controversial in the world of fashion, but horizontal stripes certainly make you appear fatter. Nonetheless, vertical stripes may be a good alternative, although this does depend on your body contours. Initially, it may help to try on a striped shirt before going out in it. This look may require a 2nd opinion.
Increase Your Height With Single Hues  
Undoubtedly, the taller someone is, the slimmer they look. This concept can be used to make you appear thin by wearing clothes that all have broadly the same color. For example, a cherry red skirt combined with a brick red jumper, accessorized with a red purse, red wedges and red bangles will make you appear longer than you actually are, elongating you upwards to minimize any visible flab. The best colors to use with this technique are green, yellow, pink, white and baby blue.
This advice is only basic, and there are many more things you can do to make yourself appear slimmer by wearing the correct clothes. Fashion aside, remember that the best idea is to actually shed those excess pounds. Being overweight will always be a big risk to your health.
About the author:
Jackie Yap is a writer of fashion styles and latest wave of cute and cool clothing. Water fanatic. Subtly charming reader. Prone to fits of apathy and Lifelong thinker. Bow 🙂
One of the things my mother bought for me was this jeans from Lee. I received it when I went home for vacation, this is my first jeans with brand name. Actually my  mother send three jeans to me through postal unfortunately those jeans are too small for me because I gained a lot of weight already so  when Lee went on sale my mother and sister bought me one pair.
It was perfectly fit for me, the jeans is stretchable so it doesn't give harm to my skin unlike those three jeans I have before.  This jeans has also a free stylish belt.
So you are going out on a big party tonight. Lots of dancing and drinking and chatting with your friends. And you have your makeup kit in your car to touch-up every hour? Why not try to make your makeup last instead? Here are some beauty tips for you.
1. Moisturize. When you were younger, you never knew what moisturizers are for. Do we really need it? Of course, we do! This keeps your skin softer and smoother. Before putting on your makeup, be sure to put some moisturizer first. Massage it to your face as massage stimulates blood to create a natural glow. Wait a few minutes before putting on your make up.
2. Makeup Primer. Putting on a primer after your moisturizer is like waterproofing the skin. It keeps the oil at bay. It makes your skin look flawless for a long time by not making your foundation crack.
3. Shape Thy Brows. The most important part of your facial feature is your eyebrows. It sets the mood of your face, it lifts the eyes, or make the face wide or narrow. Put some eyebrow wax to keep them in place, brush it, and use a pencil. They say you can never go wrong with taupe pencils.
4. Eyeshadow. Your eyes are the window to your soul, so why not prettify them? Putting on eyeshadow is tricky so you have to learn what suits your eye color, or your outfit. You also have to put primer so your shadow won't crease and fade.
5. Eyeliner. Your eyeliner defines the shape of your eyes. It gives your eyes dramatic look. There are different kinds of liners in the market – pencil, liquid, and gel. Pick the one you can use easily. It also gives an effect of having thicker eyelashes.
6. Two coats of mascara. Mascara has three uses: to darken, lengthen, and thicken the lashes. Putting on too much mascara may create spider lashes. You also have to pick the right one that suits you. Waterproof mascaras are best for whole day wear. It will not melt even if you sweat or cry. However, it is harder to remove compared to a normal mascara.
7. Make Your Lipstick Last. Fill your lips with lip pencil before lipstick. This makes a good foundation for the lipstick so it won't wear off right away.
8. Right Blush Shade. Blush works two ways – adding color to your cheek and contouring your face. Putting too little will make you look washed out, and putting a lot will make you look like a clown. Finding the right blush is difficult but here are some suggestion: if you are fair skinned, pick light pinks and peaches; if you're medium skinned, pick rosy pink and dark peaches; if you're dark skinned, pick rose or dark orange. Gold looks stunning too!
9. Setting your makeup. This may sound complicated but setting your makeup is simply dusting or putting loose powder to your face. There are also makeup setting sprays available in the market which are suitable for oily skin types.
10. Blotting Tissue. If all else fails, you may need your blotting tissue to blot away excess oil and sweat from your face while leaving your makeup nice and intact.
About the author:
Beverly Houston  is a blogger with experience in the fashion industry.  She enjoys teaching women how to use the Internet for shopping, and looking for beauty products and fashion updates.