Archive for September, 2012
We went  to Emart Everyday tonight to look for can air while looking around I found  a lot of colorful socks I just thought that my sister will like these type of socks but just too bad I didn't bring any money with me so I asked my husband to pay the socks and I will pay him at home gladly he agreed with me so I am able to get it.
These socks are stylish and trendy, good to wear for summer and winter and can be fair with any clothes of different color. They are not that expensive, they are affordable actually.
Women has their own fashion sense and style, there are women who are into clothes and there are women who are into jewelries.  You have to understand that sense of style is not a skill that everyone is born with, but could be developed while growing up and keeping up with the latest trends in fashion.
Jewelry are most love by women and shopping for jewelries is the most enjoyable past time for them.  Most women too can't go to a party without wearing a pair of jewelry as they add finishing touches and boost self-esteem. The good thing now a days you can securely shop online for genuine jewelries and trendy accessories, the internet offers you the ability to find and shop the jewelries you wanted from simple designs to fabulous custom designed jewelry.
[Image courtesy of CircoD/pixabay.
com]
One of the most sought jewel online is moissanite jewelry. For your own information moissanite is a rare mineral discovered in a crater in Arizona on 1893 by Henri Moissan and  has been regarded as an excellent fine jewel with optical properties exceeding of those of the diamond.
If you are looking for a quality jewelries in affordable prices  just hop in to moissanite.com, they offer wide range of jewelries according to design, style, class and gem stones so if you are looking for unique rings, watches, earrings, bracelets or pendants  visit them today, they are an exclusive worldwide marketer and distributor of created moissanite jewels.
When my sister and mother went online the other day they asked me if I want new shoes, well of course I said yes because  the pair of shoes I am using right now is already very old and soon I need to change to a new pair. They told me one my aunt is reselling a new Nike shoes,  my cousin from abroad sent the shoes to her siblings but it was too big for them so they're reselling it for $35.
[Image courtesy of StockSnap/pixabay.com]
My sister says the shoes is still new and it is beautiful and it is white color thinking it is not that white I told them to buy it for me rather than me buying new one here. Anyway when I asked them how does the shoes look like and what is the tag name and etc., we both searched online and my sister show me a link where I can see the shoes (featured above), the shoes is Nike Dunks SB Womens which is all white shoes Logo. When I saw the shoes I changed my mind, I don't like shoes which is too white. It is not advisable when traveling where I get all dirty from walking in different terrains.
Like most other women I am also an impulsive shopper,  I also buy things without thinking if I need them or not. I mostly do this when I found sale or good deals among the items. Most of the items I bought are beauty products like lotions, shampoos, hand creams, moisturizing cream, soaps, lip glosses and more.
Few days ago my husband decided to do late spring cleaning inside our apartment, throwing boxes and other things we don't  need. He asked me to clean the cabinet so he can keep the printer in it, and when I took all my belongings this is what I have collected four big bags of beauty products, notebooks and etc.,
I bought these items  through the allowance I received monthly, I just keep stocking them without using most of them. I am just addicted to sale, yes most of these items cost only half of the price. I don't buy things unless they are sale and I am going to save a lot, so I keep the things I need and the other items will be sent home.
Country decorations provide a popular and classic appeal to your bedroom, and a large variety of country bedding is available. Place a modern and comfortable foam mattress underneath your covers to create a truly restful bedroom. You sleep better when you have a bed with both comfort and a catchy style.
Decide on a few basic colors before you search for country themed bedding. Some busy patterns are complemented nicely by solid colors. Try combining solid sheets with an attractive country comforter. Use a rustic base and a foam type mattress to keep the setting simple. The lower bed level and more prominent base create a casual look. The bedding should complement the walls and curtains; too many patterns mixed together may distract you. Put up solid colored curtains and accent them with the patterns from the country bedding rather than use the pattern in too many areas. Pillows in solid colors also help you keep the room from looking cluttered. Pair a lofty feather bed with a foam mattress for a comfortable and traditional setting.
Mix a little bit of country with some plain accents to bring a more subtle touch to your room. You can try bedding that depicts a farm scene, animals or just earthy tones. Decide on how many patterned aspects you want in your room, and make a warm and inviting place to relax at the end of a long day.
Buying gifts for older women is always a challenge that's why you have to know what they love and what they like to do. You should remember that buying gifts is not about the gift itself but the love and thoughtfulness you wrap on it, it is either big or small as long as it is from the heart. One of the best thing to do when looking for gifts for older women is to know what is their likes or dislikes, hobbies and especially their personality, do they love novelty items or are they into spa treatments and etc.,
Anyway the good thing now a days you can easily search online for over the hill gifts for women if you can't decide on what to wrap for your Mom, Aunt or Mother in-law. One of the gifts you should consider buying is engraved and personalized gifts as they are always appreciated because they have more meaning and add more memories to remember. You can either buy personalized hats, shirts, picture frames, clocks, watches, mugs, cups and many more.
Meanwhile hobby gift for senior is also the best gift you have to consider buying, it could be gardening tools, set of yarns, sewing tools, collectibles and anything that could be used and appreciated by them.
These past few days I can't sleep well, my eyes are still wide open in the middle of the night. It all started when I think I strain my back while doing chores in our apartment. Well the other night I added one more pillow on my head I felt comfortable with it and I didn't even notice that I felt asleep already.  I search online about this condition and I have found out there are special bed wedges pillow to avoid sleeping problems and disturbances especially to people with back problems.
There are foam bed wedges or adjustable bed wedges that you can buy to have a comfortable nap on bed or couch, this things can also help someone to be relax while sitting on the couch or reading.  The comfort, quality and price is the main consideration when purchasing one, you must buy bed wedge that you feel comfortable, there are several brands in the market today which offer competitive prices that could your budget ParentGiving is one of the online store that sells affordable comfort wedges  and bed wedge pillows.
Bed wedge pillow is advisable to use when you issues on your back, acid reflux, snoring problems, leg or knee pains and sleep apnea. Using this type of pillow can relax your muscles and gives you a comfortable sleep.
My husband and I went out the other day to shop for our groceries,  we also bought soap for our daily use.  We found this lilac soap as a good deal, 14 pieces for  $8 so instead of buying 6 pieces of soap for the same amount we got this box of soap.  I also bought one box for my family so we have two box in all.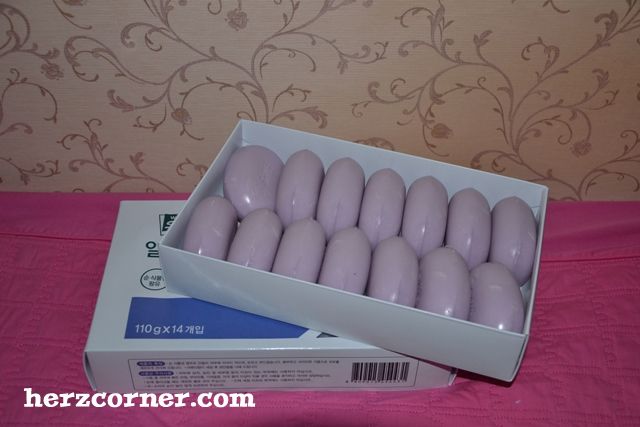 This soap smells good and also good in the skin. There's another scent which is lemon but my husband doesn't like it,  he don't want to smell like lemon after bath. Lol! I am thinking of buying the lemon soap next time, dunno if I have money for it and  if I am not going to be over baggage when we travel.