The other day my husband ask me t shop his personal things, I asked him to come with me but he is too lazy to go out. So I went to Watsons and buy the things he asked for me to by like the head of his electric tooth brush, sun screen and deodorant spray. The deodorant we bought in India is just a steal, it has 25% extra but the spray wouldn't work anymore so it is useless already despite it is not empty yet.
My husband instructed me to buy deodorant spray only but when I saw the roll-on deodorant for men I took it also, I found it cute and attractive plus it is on sale. At first I didn't find sun screen spray, all I see is cream but when I went to the counter I saw one and show it to the sales clerk then she asked me if that's what I need (sun screen) then she showed the right aisle for them.
Anyway I asked permission to my husband if I can used his card in case I want to buy something that interests me, well he agreed as long as it will be deducted on my allowance but while I am looking around I didn't find anything attractive aside from the hand cream. When I pay in the counter the sales clerk asked me what I want for roll-on or spray pointing to the sets of Nivea deodorant, I choose the roll-on. It's free, service as what they call it here in Korea.
I went to Daiso today to buy small bottle of shampoo that I could carry on our vacation, I have thought of carrying small bottle of shampoo rather than carrying  big one which is too heavy to carry,  I also have refill bottles but sometimes it is not enough so I have no choice but to use the shampoo in the hotels we stayed which I don't like doing it because I treat them as souvenir.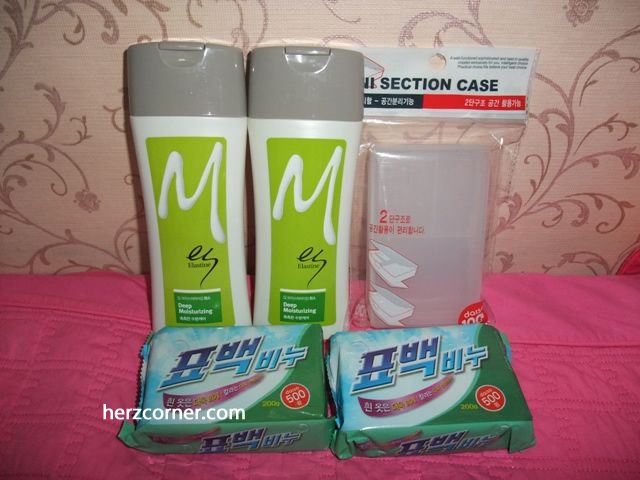 I can't find the shampoo's in the first floor and while walking around a lady shopper clear her throat, I didn't giver her a look so I went to other aisle and she followed me then maybe she can't stop it anymore she ask me something in Hangul, I just stared at her in a blank face and says "Mulayo Hangul" she repeat it "Hangul Mula?" I said yes, I think the lady want to be friend with me but sadly I can't understand her so I just left to go to the second floor to find the items I need. I bought two Elastine shampoo and soap for washing clothes I translated 표백 비누 and it says Bleach Soap and I found the mini section case attractive I can used it as jewelry case so I bought it as well.
Buying beauty products online is great for avoiding busy crowds at the shops. The great thing is that as long as you have an internet connection, you can do your shopping whenever you feel like it. So if you happen to wake up in the middle of the night and just can't get back to sleep you could always spend that time doing your shopping online! Online shopping also means that you can easily get your hands on products from other countries. The downside to this though is paying for delivery which can often be expensive.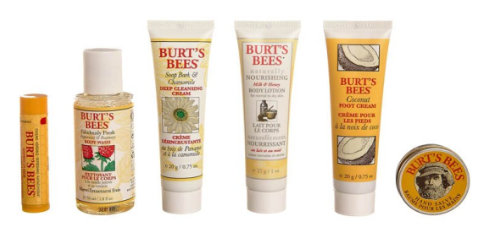 I often find that the range of beauty products is a lot better online as you can shop around different stores until you find what you were looking for. Also buying products online is really good if you're on a tight budget, as you can do a price comparison to see where the cheapest place to buy your favourite products is.
In one of my internet trawls for new beauty products I came across an online shop called Zalando, which is a German company, with online shops across Europe, including one in the United Kingdom. I really like their range of beauty products, especially a label that I've never heard of before, an American brand called Burt's Bees. I like that these products are really natural and if the labels are anything to go by they look like they would smell fantastic – cranberry and pomegranate, YES please!
Do any of you buy beauty products online? Do you have any tips that you'd like to share?
Bye for now! X
Image courtesy of Zalando
If you want to be fashionable and stylish with regard to watch, then Rolex Daytona is your best bet. Meanwhile, these timepieces are too expensive for the common man because of its costly materials and limited quantity in the market. After some brief individuals who cannot afford this authentic time piece, Replica Rolex Submariner watch is introduced to rival the authentic ones.
The most interesting thing about the rolex replica watch is that it is suitably crafted by experienced hand in watch world. The type of material used for the makings are exactly or 95% same as the authentic one and its production passes though modern technology. Having put all these into consideration buying rolex replica watches at such affordable prices are the best bargain you can find anywhere. As a matter of fact, its value is far more than the price you are paying for it.
Besides, rolex replica watches are not only for the low income earners as both celebrities and known stars do wear it. They are not only affordable but they are also trendy and durable. It is very suitable for almost any events and you can as well subject it for daily use. It comes in varieties particularly when you go online. But care must be taken not to pay rolex replica watch in place of original timepiece. This implies you must by only from reputable sites. Again, you stop for rolex replica watch online at the four corner of your room and receive your order at your door post. You have nothing to fear as long as you make your purchase from the reputable website because there are many spammers out there that are ready to burn your finger after making your payment. Beware! Online store is highly advantageous in the sense that you will have more access to varieties more than the brick and mortar stores.
The other day when I went to shopping district to buy oil absorption sheet I passed by to Esquire and see a lot of people in jest.  There's a huge sale, the clothes and shoes  are so cheap, I look around and went inside I found a pair of pink shoes on sale. I would like to buy it because I need a new one just too bad I have no money for it.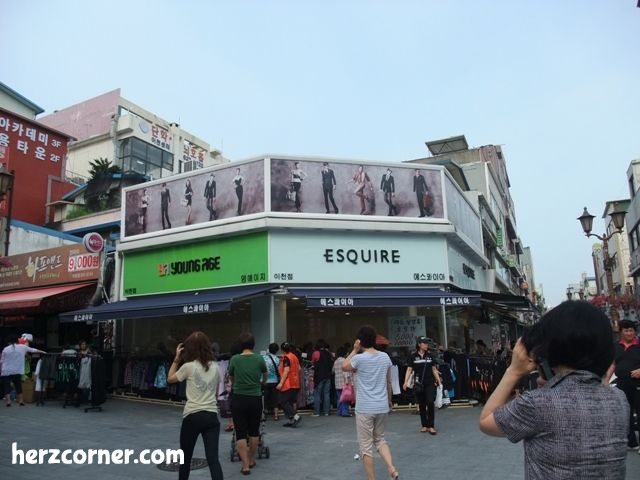 I don't know what is on this place but the last shop on here was Olivia Lauren then Esquire then after one year Esquire is  moving away, dunno what will be next store after Esquire probably Young Age? Lol!
I am not really a beauty enthusiast  nor expert I only buy beauty items to collect, stocked or send home. So I am little ignorant with this beauty regiments. Dunno what is the difference between fake and original, haha so when Paty a Fashion Stylist blogger/ author of  Mimos da Coreia stumbled and commented that Organic Farm Magic BBcream might be fake, I am not aware of it what I mean not aware that there's fake Bbcream. All I know there is an Organic Farm product so it is not fake, Lol!
After few comment exchange and information, she asked/requested if I can test it so I went to Watsons after gym to buy oil absorption sheet. Yeah right I think most ladies have this cosmetic thingy paper but all I have is handkerchief (haha).  I don't really go to other shop around us because I don't speak Hangul (Korean language) so I really prefer going to Watsons because they just let me walk around and buy things I want after they greeted me unlike other shop they will ask  me what I want and even introduced other products to me, I can't understand it but I know that's what they are talking. I preferred not to be bothered when shopping which is different from others who always want to be assisted.
Anyway so tonight I opened and tested Organic Farm Blemish Balm Magic Cover Natural BB Cream, 50ml, my husband laughed on what I am doing and even asked me if  I see this online and I am copying it. The cream doesn't look oily and doesn't smell too, I think it has mild smell which I can't smell well unless I'll pour a lot on my hand.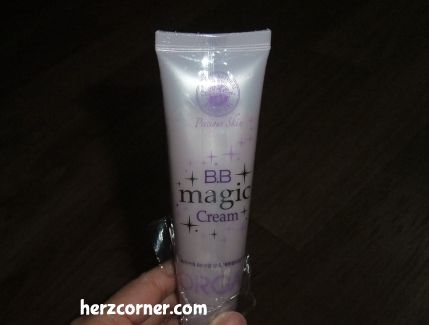 I started at 7:45 PM and after 34 minutes here's the result – 8:19 PM
And after almost one hour  8:43PM sorry can't wait with 2 minutes anymore, here is it you will notice the oil grows a little –
After 1 hour – 8:43 PM
While testing I also tested it into my hand and the result is … a dry hand… just kidding! But excuse my dry hand not really into using hand moisturizer even though I bought few of them because they are cute. Haha!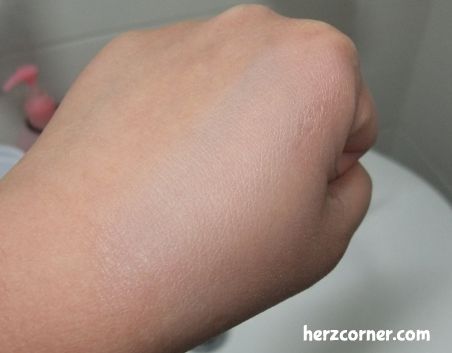 Looking at my hands above, this is how I see the faces of most Korean ladies I see in the street, so the thought on my mind was answered already.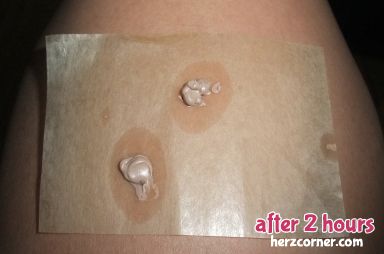 After 2 hours at 9:45 PM
Anyway  if you will ask me if Organic Farm Magic BB Cream is fake or not, I don't know did not do a test with Etude Magic BB Cream yet and I am not expert on this field.  So I think much better if they were tested the same time so we can really see the difference. Anyway what you think?