After I bought two folded umbrella yesterday I happened to passed by at Daiso and the impulsive shopper in me  went inside to look around.  The term look around is not just simply look around I ended up with a lot of items with me, my savings is all dried up.  I guess I can never mail the box at home and the cards.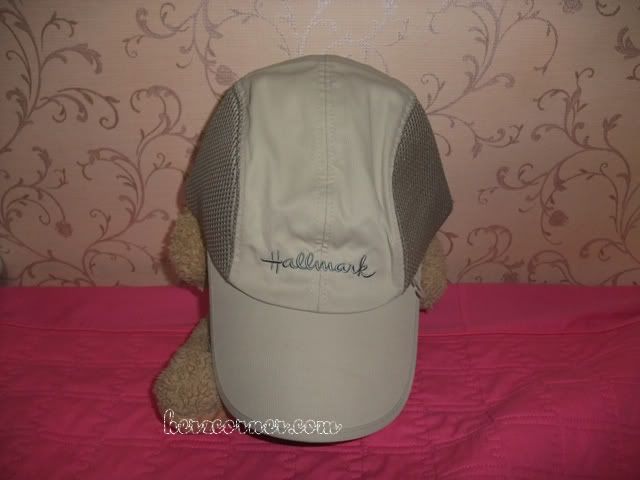 Anyway one of the items I bought is this hat I just saw it in the group of hats, no price tag and it has no look alike. What caught my attention is mark sewn at the front, Hallmark. Everybody is familiar with Hallmark right? It is one of the largest greeting card manufacturer.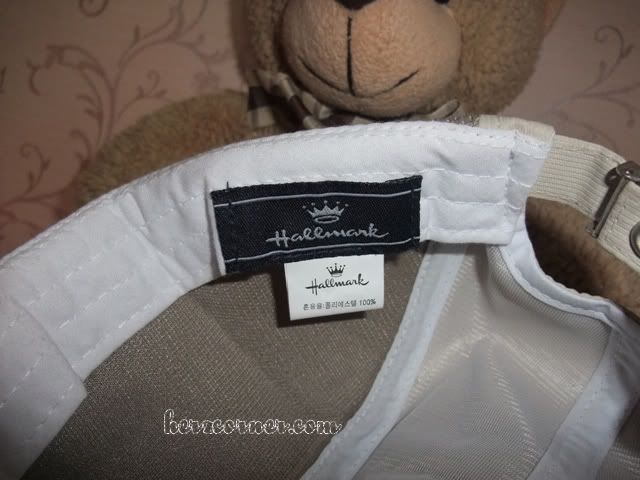 I went to one of the store attendant who is busy adding items in the rock and ask her the price, she checked it the hat rack but she can't find similar to this hat  so she tried to hand me another brown cap but I told her I want this one, so she told me "samcheon"  it seems it has the same price with other hat.
Anyway when I pay in the counter, the cashier can't punch it so she called the attention of another store attendant to check the price and it she also said "samcheon" upon checking the hat rack.
So this hat cost me samcheon or three thousand won ($2.64), not that bad  because the hat is made of cotton and polyester canvass plus it is a well know name but dunno if Hallmark really manufacture hat., haha
I got surprised today when I received an email from Zazzle stating my current balance. It was been a year or more since the last time I update my zazzle account and out of my knowing one of the t-shirt I designed had a purchase .  If you want to order or see this shirt do it here. To celebrate the spring seasons it is 15% off in all order just use this code: BLOOMINGSALE.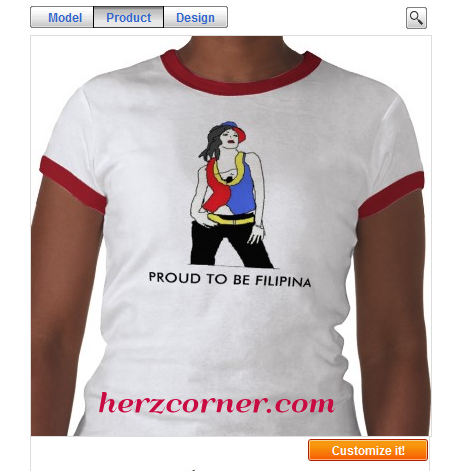 It is our shopping day today and as usual we shopped at Lotte Super. While looking around in the bath section I have found out that they have a new set of soaps, my first reaction is to smell it. The soap smells good and it is pretty cheap too,  $6.92 for 14 pieces of soap.  So I bought two box I thought of bringing them home as present to my family and relatives if our vacation materialized.
Anyway my husband didn't object because he already knew that I need to buy presents and the soap is also cheap compare of buying 4 pieces  for $4, I am also going to spend my money to buy it so he wouldn't really care.  I know the orange one is an Aloe Vera soap based on the picture but I am not sure with the green soap but when I used virtual keyboard online and translated it, it is Green Tea soap.
If you are feeling lucky and want to start your Spring season with a good vibe, you might be interested to join  Hello Spring! Cash Giveaway hosted by Diva Fabulosa and The Freebie Junkie !
The grand prize is worth $800 sponsored by  fabulous bloggers, this giveaway is open worldwide.
To join just use the raffle copter widget  at Pinay Mama.  Be reminded that only the first 3 entries are mandatory and the rest are optional, but of course the more entries you complete, the greater your chances of winning this prize! This giveaway will end on April 21, 2012 @ 11:59PM (EST).
It is insanely correct that we do not have the least of signs that which kind of style would be managing in our city and therefore, if you are not doing anything in your lifestyle then at least study all about the community and its creativeness to know more about your social style. You must have seen plenty of styles being implemented in this community and this is because, these styles differ from one lifestyle to another. If you are existing in China and you are an oriental then you would go for different form of style whereas an individual existing in European countries may set his styles accordingly. For women, we are here to provide you with greatest information, something that you would really like to pay attention to. Yes, this is real because the newest selection of Versace handbags replica have hit the store stores and a broad variety of clients were also seen coming into the stores just for the benefit of Versace handbags replica. It is sure that this selection has seen a rapid upraised as new selection packages some amazing styles of the luggage in cheap-dirty prices.
If you are looking to get yourself a luxurious side bag then this might be the greatest option for you all together. The newest selection of Versace handbags replica withholds some kick-ass looks that you must have not seen formerly and we are quite sure about this. The designers of these luggage have also mentioned the objective of creating such cheap-dirty funds side bags and it's because, more women would come to the stores and impress their selves with feeling of style.
So, this is only for the benefit of women that we are composing and we know that once you study this publish, you would go traveling by air to the stores to area on the various new styles from the selection of Versace handbags replica.
A friend invited me to  do buy and sell or to buy whole sale of authentic guess jeans from her which I can sell again. It was good source of earnings if there's a lot of people who are interested to buy branded jeans but if there's none I will end up with a pile of jeans. Anyway I can't do business right now because we are trying to build a house and I send all my money home.
[Image courtesy of StockSnap/pixabay.com]
If you are interested to buy authentic Guess jeans let me know and I will forward your inquiry to my friend.  **Closed
I am not really into signature brand of clothes because they are too expensive and can't afford by small earner like me. And  I believed signature brand has no difference from low class brand or dresses, sometimes they just used the same material and came from the same factory which is mostly in China.
When you are buying a signature brand what makes it costly is the brand in short the name of it, recently we had watch a documentary about  a jeans and underwear factory the manager says they cater different stores, brands and shops in US and other big countries and they used the same materials in every  order they made no matter how small or big it was. From his mouth I have heard that people are paying for the brand name and not really on the clothes itself.
So do you still prefer branded clothes?
Image not Mine
Mostly when there is a wedding celebration  in our province the wedding dress and everything where just rented in a tailor shop to save more money. It is economical both to the newly weds because they can save more rather than buying dresses for second sponsors and flower girls. But sometimes when it is wedding season the good gowns are out of order or rented, left no choice but to pick from the gowns left in the tailor shop.
Just today I have found out you can buy cheap flower girl dress online which you can sell or make it for rent after used.
From the range of collections this design caught my attention Blue A-line Spaghetti Taffeta Floor Length Flower Girl Dress, the design is very cute and fabulous that fits to a little princess. This gown only cost $58.99 and the best thing you can specify the color you like,  they have more designs for cheap prices if you are interested just visit http://www.milanoo.com