Archive for January, 2012
The other night when my husband asked me to buy some chilli peppers I sneaked out going to the newly opened Olive Young  which is in the same building of the gym where we worked out, the store opened this month. If you don't know yet Olive Young is a drug store dealing with various items from health supplements to drugs, cosmetics and cosmetic accessories. It also offers health products, foods, and sundry goods.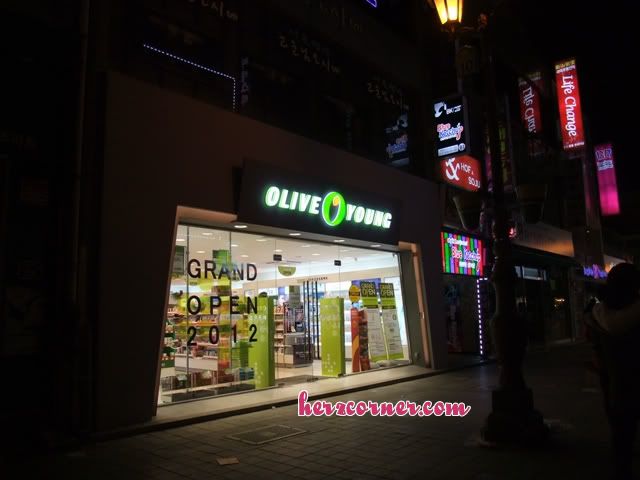 I just look around and I didn't really pay attention it is just a quick scan with a thought that the local restaurant will be closed soon. I just grab a nail care tool and few Ritter Sport chocolates near the counter well not really a few because I grabbed one flavor each (lol).
Well they have a lot of beauty products for skin, body, hair, make-up and fragrance but  it seems costly than Watsons. When I pay in the counter the sales clerk gave me W1,000 off as freebie for their grand open, she also says about point card so I asked her if I can have one she said yes so I picked the pink one, there's three choices blue, black and pink. I choose the latter as it looks very lively and girly, the black one is great too wish I can pick two., haha I didn't choose the blue as it looks very manly maybe for male customers.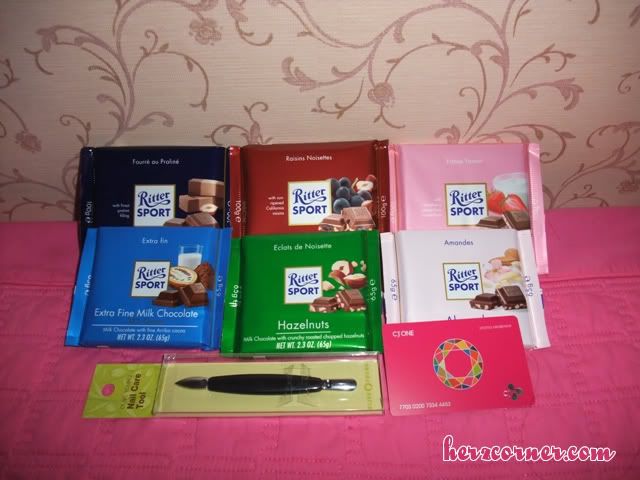 The other day after shopping our daily supplies I went out again and decided to go to Daiso to buy envelopes for the post card I have to mail to few of my friends.  I didn't find  the envelope for cards all they had is white envelope for mail which is too small. I didn't went out after that I  look around the shelves trying to find something I can buy, the pouches caught my attention especially the  brown and  hot pink. I took the brown pouch but when I did it I've seen a peach pouch at the back that  brought me into hard situation, choosing which one should I buy.  Not to make it so hard I took the two and continue look around.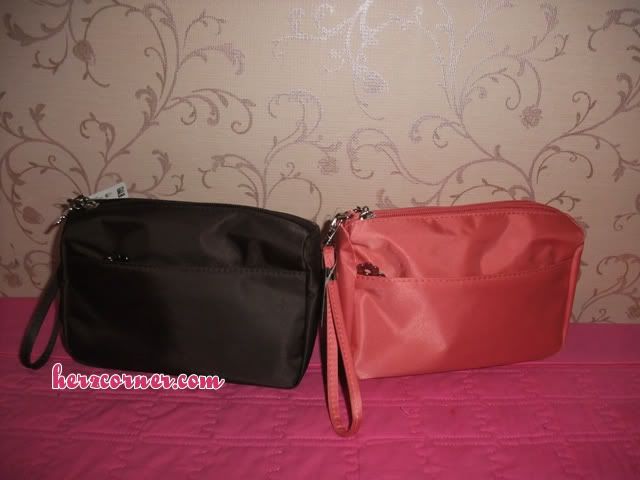 Aside from the pouches I also bought a paper sticker where I can print my address and an animal cube memo pad.  While walking home I stopped to OfficeQ  to look for envelopes and I luckily found envelope just for cards and stationary, I look around and find a cheap notebooks so I bought two, one small and one larger notebook. I didn't spend a lot on this item all I used are my coins.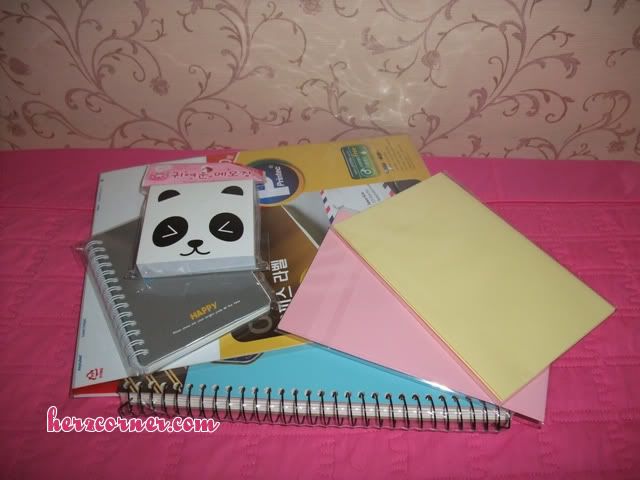 This is what the sales clerk in Lotte Super handed to us when we shopped last weekend. We are surprised to received it, it seems they have a promo this Lunar New Year.  They have two kinds of  gift certificate the other one is worth W5,000 but she handed W10,000 to us maybe because our bill  is high enough, this gift certificate is 10% if what we spend.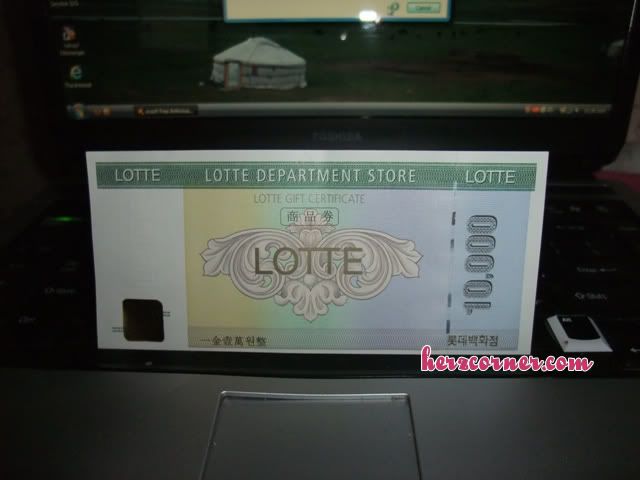 Well the next time we shopped we have W10,000 less money to spend isn't it?
I was not able to blog these past few days I got some issues with my computer. Anyway my 32G USB was delivered last Monday I was surprised when someone knock in our door holding a small parcel. I never thought it is going to be delivered to me I mean they are going to find our apartment after I messed up with our address. At first we thought my husband co-teacher was able to connect with the delivery company but when my husband went to school the next day, his co-teacher never get in touch with them. So they think the delivery company try few combinations when they cannot deliver the item.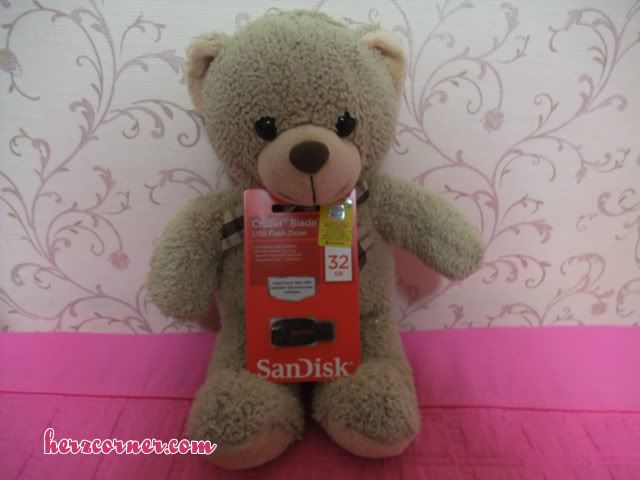 Dunno how they find our apartment because I have tried to text them online correcting the address for my tracking number,  I have also email the seller and Gmarket which I never got any response. Oh well no matter how they find our apartment one thing is for sure I got my item.
This  Cruzer Blade USB Flash Drive is compact and portable,  it is really handy because it is very small. It protect access to your private files with Sandisk Secure access software. It is compatible in in Windows XP, Vista, 7 and Mac OS.
When it arrives I immediately transfer all my files and as expected it is already full. I am thinking of purchasing another one when I saved for it.
If you want to win beauty products don't forget to join this giveaway by visiting here. The prizes are as follows:
1 Winner will win Maybelline cosmetics worth Php.1,000.00 (Blogger or non-blogger can win this)
1 Blogger (who will blog about the contest) will win a cosmetic bag with assorted products.
This is my third shopping experience in Gmarket, it is a bad experience and it is my fault. I accidentally mixed up our new address I wrote the house number in wrong position, well if you don't know Korean address are tend to change this year because the government changed their address system. Our new address is given to us written in Hangul so we asked my husband's old co-teacher to translate it for us but unlike the first address it was not written in western way, you know Korean wrote their address in a different way so I mixed up.,
Anyway I send email to Gmarket customer service to help me translate what is written on the tracking information, as I am confused with one word but I never received a response from them. Maybe my inquiry is unimportant or they just never care.
Second I have email the seller to help me trace the item I have ordered from him and like Gmarket I also didn't receive any response from him.  Maybe because it is weekend and that means I have to wait until Monday if I am going to receive a response from the seller but one thing is for sure today my ordered is gone because the tracking information indicates it is already delivered.
It is my fault anyway I wrote the wrong address, I know I should call the delivery company but there's no way I can do it, not because we have no mobile phone but because I don't speak their language and it is hard for me to explain it.  Hopefully my husband co-teacher is able to locate my item by calling the delivery company but dunno if he remember doing it as he is busy a person. When he tried to call the other day the line is busy so I am not sure if he called again or he remember calling them.
Well lesson learned. There will be no problem anyway if there's no address changed and if I wrote the new address correctly but one thing is for sure I am not going to shop anymore at Gmarket  until my misfortune is still haunting me.  When it stops haunting me and it does not hurt anymore, I would probably shop again but this time I am going to be very extra careful but the bad thing is I can't use my husband credit card even though I pay him on cash when I used his card because that's what he told me after knowing my mistake. Hopefully he will changed his mind in the future., I hope so.
If there's one thing to be my weakness that is to be colorful clothes and if there's one thing I admire online that is the fabulous creation from Princess Tutu Collection.
There are times I am tempted to buy a colorful tutu but the fact that nobody will wear it stops me from hallucinating.  Most of my god children are male, the only female is already grown up.  I wish I already have a daughter to dress up huh?
Princess Tutu Collection make and Sell Tutus and Hairbows for sweet little babies and sassy princess. According to what I read Tutus are perfect for Ballet, Especially for Photoshoots! Costumes for Halloween, Formal Events or Wedding, Dress up Parties, Play time or just for fun and Gift ideas for Special Occasions and more..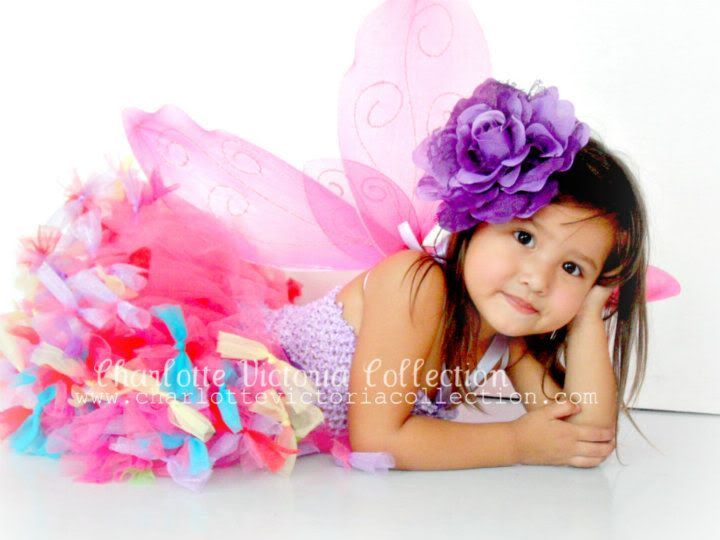 For more details and order please visit Princess Tutu Collection on Facebook or see more tutu collections  here.
I am in need of new shoes, my  not so old  shoes is starting to show some sign of aging. I think I over used it when we travel to India or it has just so much dirt that the material is starting to bid goodbye to me. I know I need to wash it but how can I do it on this weather condition, haist I look online for  a pair of shoes and this New Star Snickers caught my attention they are colorful like my multicolor socks., hmmm.,