Just a thought of sharing this email I received from Allure Magazine, they've joined together with Lucky magazine and have a limited-time offer to get both magazines for just $1 an issue.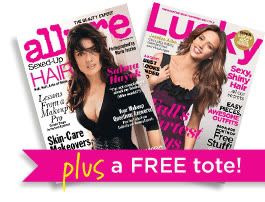 Plus you'll get our exclusive tote FREE in every purchase, Allure gives you expert beauty advice from the pros on skin care, makeup, and hair. Lucky finds the best shopping deals and delivers you the latest styles.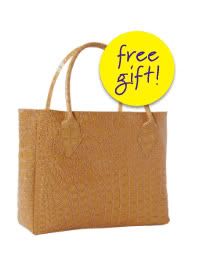 So subscribe today and get a year of both Allure and Lucky and save 71% off the cover price!  You'll get 12 Issues of Allure & 12 Issues of Lucky for $24.
I am looking for the best shoulder bag for me as my one and only bag is a backpack. There are times I need a shoulder bag when I only need to carry something smaller and depends on my clothes. My last shoulder bag was thrown by my husband when we left Seoul as it is already old and torn.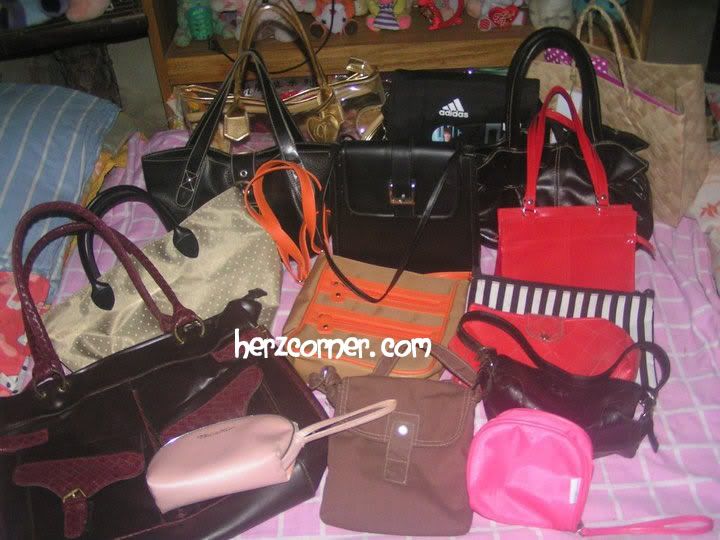 The other week my sister show me picture of her bags and asked me to pick one for myself so they can  add it to the things they're going to send me when I have enough money for the postal. I chose the bag in the front, maroon in color.
I am kind of  fashionista during my last two years in college, that was the time I am full blown lady err what I mean a bloomer. , because if you don't know yet during my younger years I am boyish. I don't know but maybe my mother is proud of me so she showered me things abundantly, so don't blame me if I love purchasing and collecting stuff right now because I guess the photo below is one evidence of my addiction.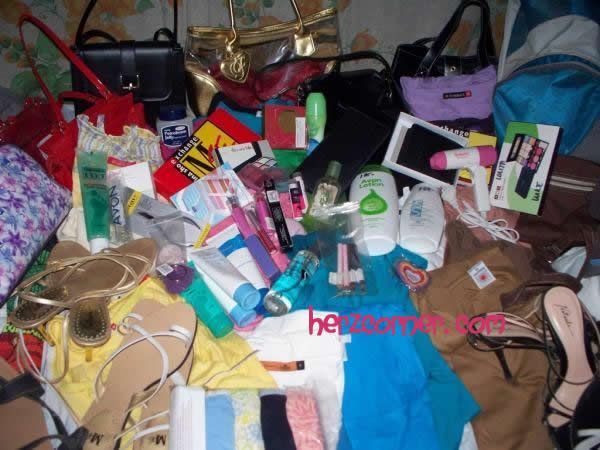 We are not rich it just happened that my mother is a dealer of this brand and I helped her by selling items to my schoolmates so expect seeing me at school with brochures instead of books. With this it makes my clothes made from Natasha, MSE, Sundance and Fashion Exchange.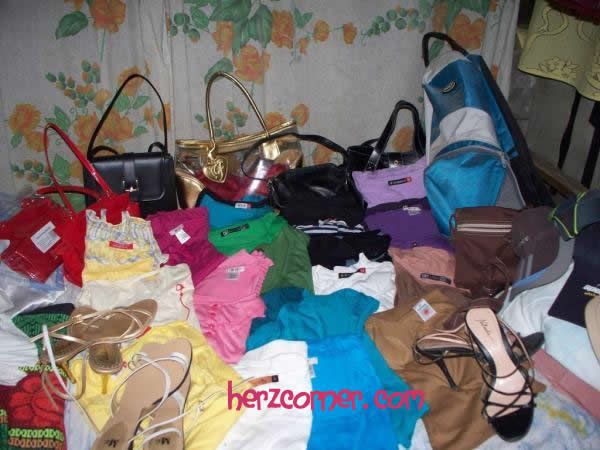 Well if I have clothes I have bags too to much my outfit its either from Avon, MSE or Natasha. Most of my high heeled sandals and shoes are MSE and most of my kikay accessories are from Avon and Fuller life.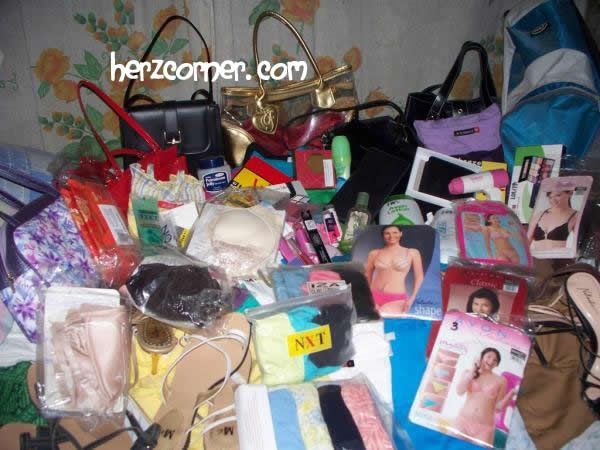 My shoe rack, kinda messy huh?  My notes and photocopies , dirty clothes and etc., I am cleaning my room when I took this photo, as you can see there' box below the dirty clothes net.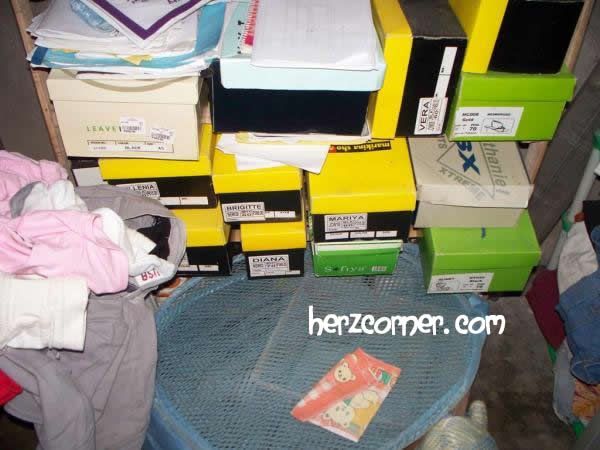 I missed those old days, walking in the school pathway with my 2.5 or 3 inches pointed sandals in my skirt and blouse, with my little bag and on fashion accessories. I feel so confident that time with my friends, especially when some schoolmates approached me with admiration.
I am really into sale, last few months Dove Moisture Body Wash  are on sale  so I grabbed my opportunity and oh well I ended up buying three sets with different aroma, like my other stuffs it is still unused but I am planning to use one sooner and send home the other stuffs.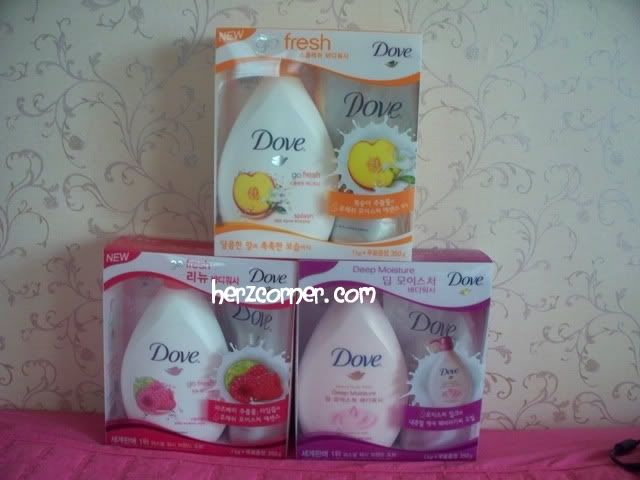 The first  one is a white peach extract and ginger flavor,  the second one is a raspberry extract, and lime juice and finally the last one is for soft and supple skin.
Aside from being addicted on buying shampoo's and lotions,  I am also obsessed with bags mostly backpacks especially we love hiking when we are not busy. That's why when I saw bags at the shopping district I always stop and look for the material, just tonight I have stumble to a website that sells different kind of bags what caught my attention is the   Ogio backpacks , they are professional looking with their sleek designs.
As what I have learned Ogio bags are comfortable and lightweight to carry and has many compartments that are useful and spacious for a person like me who loves to carry anything on my bag.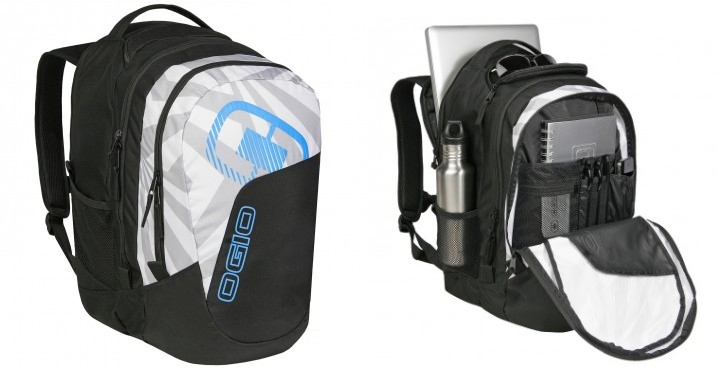 Photo not mine
 Aside from backpacks they also sell  Ogio golf bags to duffle bags.  This bag can also be used as school bag and for sure this bag will fit your child needs.
Missha is one of the well known cosmetics and beauty care store in Korea and it is also one of the store I like to go in when they are in sale, below are my old loots when they have 50% sale last December, it is going to be one year already and I still didn't use any of these (lol), I have manage to include the other stuff to the box I send home.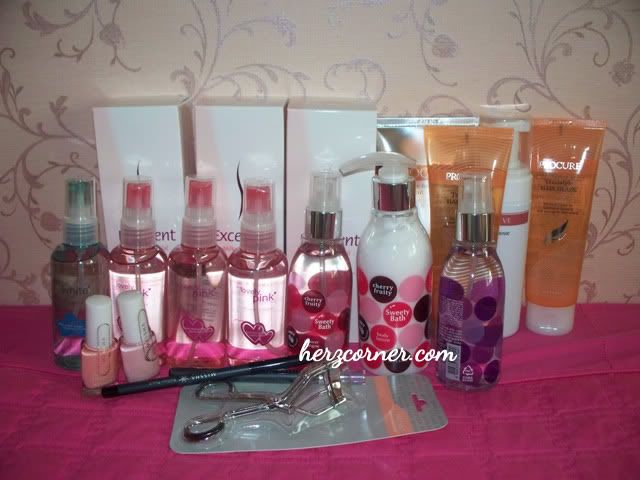 Just last month they are in 50% sale again I am tempted to shop more to add more stuff to my collection, but I had control myself and I've done it many times but there's one day I almost give up and luckily the next day we have to leave for vacation because if not for sure I spend money again.
As the technology develops throughout the world, from vacuum tubes to modern computer, from black and white TV to colored ones, transistor radio to DVD player and a lot more changes to advance technology.  Korean electronic products have transformed their shapes too from a simple product like a vacuum tube radio to advanced products like a mobile phone, IPTV and semiconductor, rapid increase in production of electronic products in Korea is brought by the significant development in technology and increased demands of Korean electronic products throughout the world.
Yes, it is well-known that Korea is very popular on electronic devices, in fact Korean electronics are ranked at the 4th in the world electronics production. That's why when you walk around here in Korea you can find electronic warehouses of famous electronic brands, there's one near us and every time I passed by to supermarket they always have a streamer for an event, I seldom go inside because it is too embarrassing  if I always check the gadgets and never buy anything, I am saving for a Windows 7 laptop though.
I just heard about the upcoming Korea Electronics  Show (KES) – http://www.kes.org  this year (see below), according to what I have read the first fair was held on 1969 at Deoksu Palace, Seoul and after so many years of success and being part of 52 years history of the Korean electronic industry and a window for overseas trade  they are now  on their 42nd show which is will be open on October.
Visit the Korea's Biggest Electronics Show!
Korea Electronics Show 2011
  Date : Oct. 12, 2011 ~ Oct. 15, 2011
Venue : KINTEX, Gyeonggi-do, Korea
Sponsored by : Ministry of Knowledge Economy of Korea,
Gyeonggi Province
Organized by : Korea Electronics Association, ETNews.co.kr
Registration :
www.kes.org
The grand fair held last 2010 was very successful with a  displayed on a 53,541m2 site, global best-sellers including mobile phones, semi-conductors, and displays, along with convergence solutions such as fashion IT, medical IT, construction IT, etc., proposing a direction for the next generation of electronics and IT industries.
A total of 1,823 representative buyers of IT industries from 23 nations such as Russia, China, and India participated in the show, as well as about 750 companies including Samsung Electronics, LG Electronics, Hynix, Taiyo, Yuden, Merck and others.
To top that KES 2011 will  have over 1,000 companies from 30 different countries will participate at the Korea Electronics Show. The show will be held in 53,541 square meters of exhibition area, the participants will present their major products such as cell phones, semiconductors, displays and etc. Also different kinds of convergence solutions will be presented such as digital kits, digital hospital, wearable computing and Green IT. Those presentations about convergence solutions will give CEOs the insight of the future trends of the advanced technology and the global markets.
If you don't know yet  KES is affiliated with major exhibitions in Asia, a strong connection with Asian Pacific IT shows held in Japan, Hong Kong, Taiwan and China, buyers from North America, Europe, Middle East tend to schedule every October as Asian IT show pilgrimage.
So if you are techie and gadget lover this is show that you don't wanna miss as the KES 2011 theme says  Be smArt! For information visit – http://www.kes.org and for pre-registration do it here – http://www.kes.org/visit/visitRegist.do  (*Site provides English, Japanese, Chinese translation)

Fore more information and question please visit KES in Social Media Network –
KES Official Facebook Page : http://www.facebook.com/kes.org
KES Official Twitter : http://twitter.com/kes_info
On SlideShare :

Report on Korea Electronics Grand Fair 2010 :http://www.slideshare.net/postnjoyfb/kes2010-report-finaleng
 Korea Electronics Show 2011 Brochure : http://www.slideshare.net/postnjoyfb/korea-electronics-show-2011-brochure-english-ver
Since I migrated here in Korea my clothes are the same old clothes I brought from Philippines, I am kind of picky in clothes eh. Clothes here are so expensive for me even those blouse that made of light materials they ranges to $6  which is just about $2-3 if I bought them in Philippines, same with jeans the price is doubled here so I decided to ask my mother to buy clothes for me and send it here if I already save money for the postal fee. My husband keep telling me it is the same thing because I am going to spend for the courier but I said its different because the quality is different (lol), I asked him to help me for postal fee but he don't like the idea and as usual his counter offer, he will buy me the clothes I need if I bought them here which is I don't like, I am not going to spend big amount of money to buy clothes then I am not going to be happy and satisfied in the end.
The other day uploaded the picture of the clothes they bought  for me, it consist of jeans, jacket, blouses and shorts. If I earned enough money online and save for my postal I might asked them to send me some Filipino items as well like pancit canton, noodles,  sour soup and ginisa powder. Hehe