When was the last time I shop for small stuffs?  Two or three months ago?   The other day I was able to shop not so important things for myself as I am done saving for the postal fee of the package I have sent home. They already received it the funny thing is my father only appreciate the tape measure (metros) and he didn't like the sample of deodorant and body wash I included, oh well maybe he didn't like the smell because it is peppermint. My mother and sister for sure love the stuff I send mostly chocolate, cookies and candies and some household stocks like coffee, milk, shampoos and etc., . I also included pairs of earrings, my mother says they are old sold out now, not by cash but by credit. Lol! They are not expensive nor gold they are just accessories which I bought here.,
So the other day as I feel relieved and just to treat myself for an accomplishment I have done, I bought few stuffs not just for me,  I bought a digital cleaner for our computer, hanger to hang my camera connector and headphone,  towel to use in the gym, notebook for Pookie bear,  packaging tape for future usage,  scoop for rice and little bowl for food.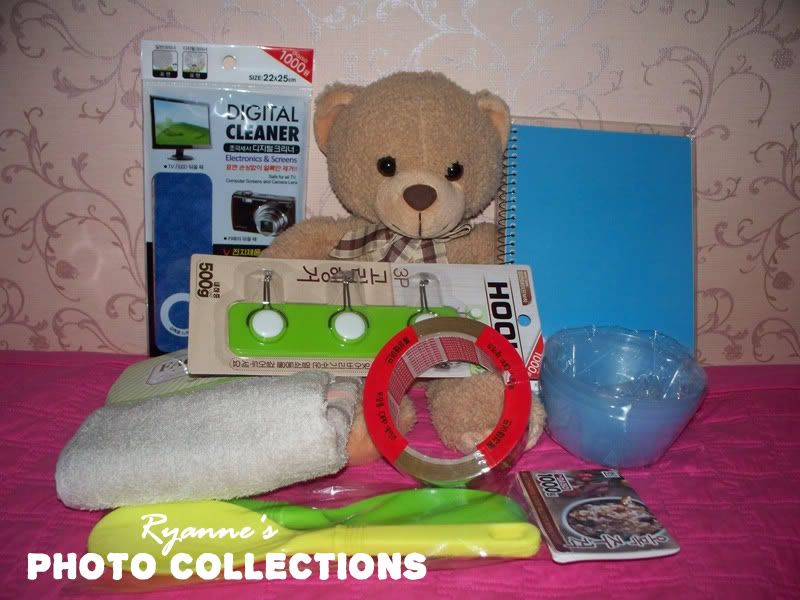 I didn't spend a lot because they are just cheap items, I just love buying something cheap oh well I am addicted to sale and cheap items, isn't it?
It is summer season here and the temperature is hot  so of you are looking for something to help take you away from the everyday grind? Introducing Dove® go fresh® Rebalance, a revitalizing new fragrance from the go fresh line. Now you can add a fresh twist to your routine with the nature-inspired plum and sakura blossom scent.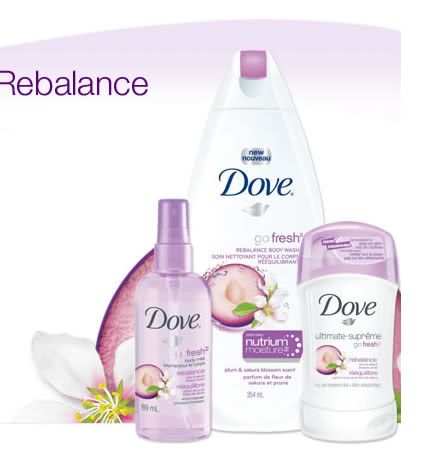 You heard it right Dove Canada has  new fragrance hopefully it will be available too here in Korea,  Rebalance is available in Body Wash, Anti-Perspirant and Body Mist.
This is the description of the product –  The new inspired scent of plum and sakura blossom leaves you feeling fresh all day, while their unique Nutrium Moisture technology leaves your skin feeling nourished and invigorated.
I am not that expensive when it came to perfume, I seldom used it  except we are going to somewhere special mostly I am just using body splash at home. I'll be two years here in few days but I still have those perfumes and other cosmetics from Avon which I brought when I went here.
Below is the perfumes that  Ate Cha handed to me as gift few days after I left out of the country.  We're not that close and we don't know each other very well aside from she is the sister and co-owner of the AVON center where my mother is connected as a dealer, they know me as I am always with my mother every time she will order or get her order.
I didn't try them yet so I don't know how they smell,  maybe it smells like an urban flower  from Tokyo and Rome, the yellow is Tokyo and the pink one is Rome.  These two are just few of my stuff here that I don't use because if you don't know me yet I am the kind of person who will shop and then don't used them at all unless needed. Sounds weird but I am happy seeing them and not using them. Maybe somehow in the near future I am going to use these perfumes, maybe in Christmas lol.
Summer season is here ,what is the perfect dress for you? The one who fit and flatter or the one that makes you comfortable? Well it is really hard to choose a perfect dress for any occasion because we always want to look attractive and don't deny it because woman are born to be vain. It always  took us long to decide on what to wear or what to pair with our accessories.
There are times that my eyes are bothering me, aside from being a teary eyed my head also aches and feel like vomiting. It seems being online for nine hours a day is not very healthy anymore, I am planning to see an eye doctor in the future but the thought of wearing eye glasses freak me out. I don't want to look old in my young age, I don't want to be called nerdy or whatever names is it. Then I remember one of my college friend eye glasses who did not look like one, it looks like a sun glasses that you can wear and match in any clothes and in any occasion. She told me it is a specialized eye glass for a person like me who don't want to be notice having an eye problem and don't feel like wearing contact lenses. If you want to wear an eye glasses you have to see an eye doctor don't just buy glasses on the street because instead of help it might worsen your eye problem. If you want to know more about glasses Tageslinsen (Daily lenses) might a big of help for you to know the importance of using a right glasses for your eyes. You can also find some helpful advice about proper wearing of contact lenses in your eyes.
One of the advantages of living here in Korea, is being up to date with beauty regiments and cosmetics, there are times I wander around the shopping area to see what's going on and what's on sale or there is any sale event.  Guess what The Skin Shop is on sale and one of  the event you don't like to miss is the 40% off for  Magic Science BB Cream  + saffron SET Planning, and the big sale for Saffron Real Cleansing Foam + Cleansing Cream + Massage Cream Planning Set.
Oh well, if you didn't know yet. Yes The Skin Shop specialized in BB Creams and Snail Cream, you might ask what is BB Cream, BB cream or Blemish Balm, is 'All-in-One Cosmetic Product' from Korea. It is pretty much the end all of foundation, concealer, moisturizer, sun block, anti-aging essence so in short it's a combined product that eliminates many products from your daily makeup routine and not only simplifies foundation but also offers key ingredients that we all look for in makeup and skin care. Furthermore, continuous use of BB cream will help to improve the overall texture of the skin and fade acne scars.
One of  The Ultimate Solution in artistic skin make-up by The Skin Shop is Magic Science BB Cream,  constant using of this product can cause skin healing and moisturizing, anti wrinkle, UV protecting and whitening functions and other good effects as follows:
acts as cosmetic base and liquid foundation
perfect camouflage for under eye circles, acne scars and dark marks
gives natural makeup look
moisturizes and softens skin
controls oil balance of skin
brightens skin
improves wrinkles
protects from damage of UV rays (SPF 25 PA++)
encourages regeneration of skin to create and maintain youthful skin
The Skin Shop is under the company of IFMANET Co., Ltd and been in business since 2007 with gross sales of 20 Billion KRW and have their product exported in Thailand, China, Japan, Hongkong, USA, Malaysia and in Australia. They have also their online distribution in http://theskinshop.en.ecplaza.net/ which in in English and in http://the-skinshop.com/ which is in Korean, so if you are planning to open up a store with The Skin Shop products you know where to get supplies, and if you want to purchase some products near you and don't know where to  go, you have to remember that they also supplied to specific stores like  Chain Stores in China,  Supplying to 'Bonjour' Chain Stores in Hong Kong and they made supply contract with 'Watsons' a global drug stores in Thailand.
Their product is approved by  Korea Food and Drug Administration on three functions: Skin Whitening, Wrinkle Prevention, UV Rays Protection and been popularized endorsed by the KPop Rookie Girls in Korea name J.Q.T Their names are Park Min Jung, Lee Ji Eun, Park Ga Jin, Joo Min Sun.
For more information about this product and company please visit at http://the-skinshop.com/ or  http://theskinshop.en.ecplaza.net/.
Visit them on Facebook too http://www.facebook.com/pages/The-Skin-Shop/221296321229718 and always remember "the beginning of caring for your dreaming beautiful face is completed right after the skin is kept in healthy and clean." – The Skin Shop