As what I have noticed younger men doesn't know how to work with their tie. They have to ask their parents or older people to do it for them.  We have to know that tie is an important part of men dress, a guy wearing a tie looks more attractive because it can easily catch attention. Wearing a tie is not just by putting it around your neck, you have to bind it in a good way, one of the easiest ways is the Kent node where many experts call the Kent-tie knot as "single knot". This is always the right choice for any out fit , you can tie this necktie knot with a very thick fabric tie a bulky knot.
Way back in college I have learned how to be a fashionista (fashionable) with the help of my mother, classmates and friends. They're the one who encourage me to be girly and show my assets, I admit I am a late bloomer. Most of the time I am just inside our house, hiding if I've seen one of my classmates or teacher visit our street or what we called barangay. Despite of my anti-social traits I have dream to be a ramp/fashion model not just locally but internationally. It is my longest dream to visit London where the fashion capital resides.
After our graduation and after I get married we've parted our ways I am now far away from home so my biggest problem nobody will teach me anymore on what to wear and what to buy. Until I stumble to London Fashion,. If you are like me who want to be stylish and fashionable and don't know where to start London Fashion, can help you. They are so much willing to give you the latest fashion tips or information around the world that will help you begin or improve your fashion style. Browsing through their site you can easily find what are you looking for because it is well organized for an internet user like you. So if you are having problems on what to wear in an upcoming parties, you know where to go and who to consult. They will help you look elegant and striking with appeal with their latest fashion trend. Don't worry its free to visit and browse to their fashion collections. They also have a Facebook page that will help you meet with other people with the same fashion as you.
What I hate when we're shopping late at night is we are always on rushed to pick everything we  need. Last Wednesday we shopped late at night for the second time because Pookie bear needs to harvest his farm in farmville and eat his meal before we can go out out and shop. As what it is expected the super market is close to close its doors for shoppers, so we are not just in rush but expedited (lol). As in we are in marathon forget the cart just used your two hands holding the goods, we are almost finished when I remember Pookie bear needs deodorant so we went to back part of the supermarket to find one, the sales ladies told us the counter over there is already closed and we have to use the front counters but we told them we need deodorant, at first they gave us spray but I said stick. So they hand as a Rexona, as what I know. To cut the story short when we went home and set aside all the goods in their respected location I was surprised when I found out that the deodorant is not Rexona but REXENA.  So I look up online to find out if what's the difference about the two, if the second one is imitation or what. As what I have found out  Rexona is the brand in UK, Ireland (including  Philippines and other world wide countries), while Rexena is the brand in Japan and Korea , they both belong to Unilever products.
Living here in Korea is very far different from living in the Philippines, where you can use bar of laundry soap to wash your dishes like plates. Just the other week I went out to shop for a dish detergent  and of course I picked the cheapest one. And this is the first time I used a soap made of rice starch.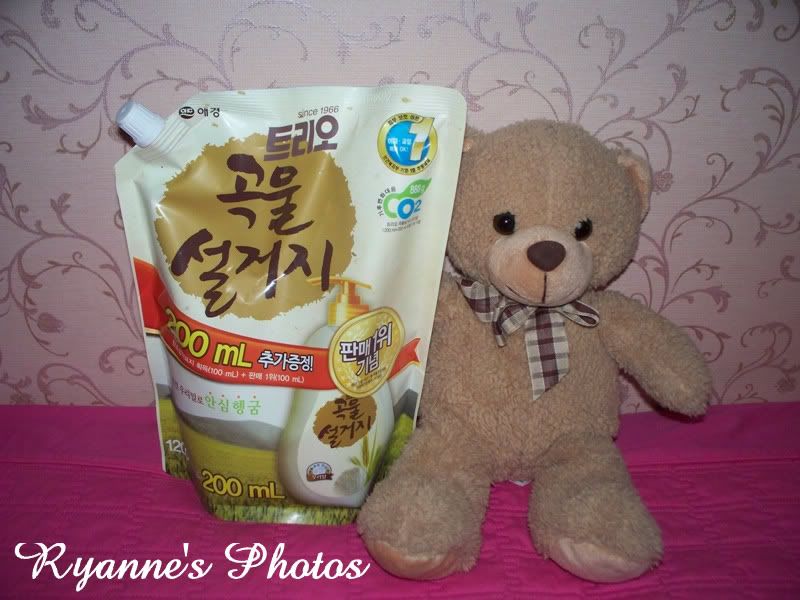 This dish washing soap is good for washing dishes with grease and fat. It can also be used to wash fruits and vegetables and verified by Ministry of Health. It smells like rice though.,
Owning a business is not for everyone, there are some people who got enough capital to start a business but they won't try it, because business is a gamble. You might earn and you may lead to bankruptcy because of lack of feasibility studies. You have to remember feasibility studies is very important in building a business, personal or online. There are some questions needed to be ask, who are your customers? Does the people around or online can afford your products? Does the price is too much than the other store/company? Those are just example of questions you need to consider, a better example is don't open a computer shop in your vicinity when nobody knows how to manipulate a computer or there's another computer shop nearby. While in online business you need to consider that your products meets the certain requirement of consumers, the quality and service. The amount of it as well, nobody will buy to your online store/shop when your price is higher than the mall nearby.
By the way have you heard about B2B business (business-to-business) on the internet? It is also known as e-biz, the exchange of products, services, or information between businesses rather than between businesses and consumers. It is transactions between businesses, such as between a manufacturer and a wholesaler, or between a wholesaler and a retailer.
ECPlaza is in B2B business industry they started their site in 1996, and has grown to No.1 Trade Leader providing online and off line service to over 400,000 members. Based on export marketing, they operating not only B2B website, EDI service, trade consulting and so on, but also offline trade-related services for SMEs.
Today ECPlaza is on their fifteen(15) years of service, yes you are right they are celebrating their 15th year Anniversary, and they are giving more benefits to their members, they extending their business field to the global market by providing great value such as more business opportunities, cost saving and convenience with the help of worldwide network and high brand recognition.
As a matter of fact over 4 million trade offers are posted in their website, which is the largest scale in the world and ECPlaza B2B website is listed on the top level of several famous ranking sites such as Alexa, Rankey, 100 HOT etc.
So if you are interested to open up a business or market your company products give it a try in B2B industry by signing up at ECPlaza, for your own information this is the introduction on Global online B2B Trade Marketplace, ECPlaza.
– EXCLUSIVE SERVICE FEATURES –
Get your own website for FREE at ECPlaza.net
You can get your own website where you can publish your company profile, products and Trade leads for free.
Receive Buyers' Enquiries from all over the world
You can reach out to thousands of prospective buyers from all over the world.
Get various services for Free
You can use PC080 messenger to chat with your trade partners in real time and close deals faster and get the latest trade leads and information on new buyers with Trade Alerts daily or weekly.
You can enjoy Basic Service of Ecplaza as a Free Member, or you can become a premium member for gaining more trade chances. (http://www.ecplaza.net) There are two types of Premium members, YES Silver and YES Gold, below are the benefits of each membership that you need to know.
The benefits of YES Silver
Allows you to create premium homepage using dynamic editing tools.
Allows you to post 200 selling leads and products which will be listed in Priority listing in buyers' search results.
Allows you to input 5 Keywords when posting about products and selling leads which means that you can get better search result.
Unlimited access to buyer contact details and our exclusive 2.5milion global buyer data base.
Free online banner advertisements by using the ad service points credited on activation of YES Silver account. (Points can be used for advertising in Ecplaza site)
Creating a high-quality business proposal easily.
Company Verification Service – your company will be displayed with A&V seal on your homepage to show buyers that your company is legally authenticated and verified which gives more trust to potential buyers.
The benefits of YES Gold
YES Gold is an advanced premium service which includes all of YES Silver services.
It leads your global business to success with our powerful overseas marketing service including on-line / off-line supporting.
Allows you to post 1,000 selling leads and products with TOP-LEVEL Priority Listing in buyers' search result.
Allows you to input 10 Keywords when posting about products and selling leads which means that you can get better search result.
Free online banner advertisements by using the ad service points credited on activation of YES Gold account.
More points are credited than the YES Silver account.
Provides e-Book Type Catalog (Up to 12 pages)

Promotion service with your products in various trade magazines which will be distributed to major trade shows around the world.
So never miss a good opportunity to market your company, meet your right buyers and new business opportunity through ECPlaza!
To start with, you can check their official web page at http://www.ecplaza.net. For more information here are the list of ECPlaza Corporate Social Media Network –
ECPlaza Official Facebook Page: http://www.facebook.com/ecplaza
ECPlaza Official Twitter: www.twitter.com/ecplaza
ECPlaza Official LinkedIn Company Page: http://www.linkedin.com/company/ecplaza-network-inc-
ECPlaza Official YouTube Channel: http://www.youtube.com/user/ecplazadotnet
Happy 15th Anniversary ECPlaza!