As what I have said on my other blog Nivea products are on sale, especially those moisturizing creams and lotions.  Last night after the gym, I went to NongHyup Supermarket to buy Kimchi and milk, but instead of going home directly I went to Watsons to look around, and your guess is right as mine. I ended buying more stuff again, I bought the Nivea moisturizing lotion it is buy one take one (400ml each)  for $8.89,  and I bought another moisturizing cream for $5.38, Vaseline for hands and nail, Nivea soft moisturizing cream for hands, face and neck and Watsons softening body lotion. Well, I am so vain, I am not so fashionable with clothes but with beauty products on SALE I can't say no.
My beauty products include, splash, sprays, lotions, shampoos, oil, and etc., are overflowing in my hidden compartment. If Pookie bear sees all of those he might hate me for collecting a lot of garbage and wasting my money to the things I am not going to use. He only sees few because I covered them with shopping bags, hehe.  I think few more and I can  already open a little store. Oh yeah, he decided not to give me penalty for the toothbrush that stuck in the toilet, so I regained my allowance that's why I have money to spend.
Anyway, just the other night while buying some chocolates in GS25 I spotted this cute bottle of hand  sanitizer I took it on the counter and as well as the pink spray which I found in the counter when I am paying, I don't know what is it but I found it cute and cheap I pay for it.  As I reached home, I started searching what is it and even translating Hangul to English, well it is a fabric spray, softener and deodorizer.
Just so lucky that I bought a Dove Moisture Body wash the other day because they are not in big sale anymore, from $6.19  the price went up to $10.68. Yay, lucky me!
The bad thing  was I lost my gloves last night in Watsons, when I returned inside upon realizing the other gloves was missing  it is nowhere to be found anymore. Maybe the sales lady already throws it in the garbage bin, lol.
Finally I was able to purchased  another fragrance of Dove, its white peach extract and ginger flavor  (Splash), I have bought it last night when I went to Nong Hyup Supermarket to buy some items for our weekly consumption.
I have no plans yet  what to do,  I just love  purchasing and collect any products I like especially it is on sale. Then send it to home to Philippines when I save enough for postal.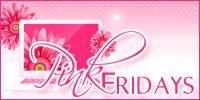 I always forgot to join this meme, so as I am blog hopping I remember about it. So I am linking this to Pink Fridays.
No matter how I resist the sale in Nong Hyup Supermarket I can't really hold it, last night after gym when I bought trays of eggs I saw that thee kinds Dove Moisture Body Wash are on sale, I was not able to look at them closely because I am in hurry Pookie bear is waiting for me outside, our agreement if I took too long he will left me which I don't like. How can I carry 4 tray of eggs while holding my umbrella plus it is snowing?  So I directly went to the counter with my tray of eggs and detergent soap.
I have have told him before we sleep that my Dove Body wash in the bathroom is almost empty and if it is okay for him to buy one set for me, as they are sale in the super market, his answer is a question why do I need it, just used soap he added.
As of today I feel uncomfortable of the thought of the Dove Body Wash so I hurriedly wear my jeans and take my winter coat and head on outside, when I remember I didn't yet pay the internet bill I return inside our apartment and look for the bill, just so lucky too that Pookie bear left his wallet where the his bank card is.
I pay the internet bill first in KB Star  Bank and head on to nearby Nong Hyup supermarket, looking at the body wash in the aisle I can't decide which one to buy, should I buy one or two Body Wash with refill set or not. So thinking if Pookie bear will buy one for me tonight  I should buy one, but thinking if he won't buy for me I should buy two right now before it is all gone. The dilemma is there is three kinds, I walked around to other aisle thinking what to do, my final decision is to take two kinds, if ever Pookie bear buy me one tonight I should picked the other one.
It's been four days since my last blog here I just feel procrastinated plus I don't know, lol.  Anyway meet my new  pet and baby,  there's no name yet I just call him baby bear. I have bought this bear the other day when I felt relieved when the stuck toothbrush was finally removed by the real plumber, I am talking to this bear like a child talking to her doll. Lol, Pookie bear asked me if the bear is also talking too, I replied yes then he told me he should bring me to Psychiatric ward in short Psychiatrist . Hehehe
He also said I acted weird, I sounds like a child playing with the bear while  it is on my feet, sea saw up and down.  Like what I usually done with my pets way back in Philippines. Anyway I keep asking him to buy me  a pet, dog or a cat but the answer is always no because he said we can't take care of them when we travel.
There are times we're both  like a child playing with this Teddy bear, like when he is watching  a TV show he will put the bear near him and says it is also watching and etc.,