Archive for September, 2011
Since I arrived here in Korea I still wear the same clothes I had in Philippines, still the same pants or jeans. Lately I have noticed my pants are getting old they're starting to tear in the torso. It seems they are already over used and over washed. I don't like buying jeans here as $20 is so expensive for just one pair of jeans, so what I did is asked my mother to buy jeans for me, she's able to buy because I send money to them from the earnings I saved online.
So below are my new pants/jeans I thought the clothes are mine too but my sister says that's her clothes which they bought  on sale.
My mother asked me if I already have savings so they can already send the clothes to me. This is the reason why I am wishing and looking for more opportunity online.
I went to the bank yesterday to pay the bills. Temptation strikes and I went to Nonghyup Supermarket to look for sale items, I ended buying a conditioner as it is almost a month since I don't have one. I am waiting for my husband to buy one for me but it seems he is not interested, so I buy it on my own.
Dantrol conditioner cost $4.55 each and I bought three so I spend $13.65,  I am thinking of sending the other two to my family when I already save money for postal.
Dantrol is a dandruff shampoo so expect it to be mint and cool, I developed a dandruff since I used Head and Shoulders shampoo, it seems using Head and Shoulder shampoo is not advisable when you don't have a dandruff.
Do you wear sunglasses? I am not too comfortable on wearing one, it feels like I'm blind when I have a sunglasses and I don't know but it looks like sunglasses doesn't fit the shape of my face. What you think? Well maybe I only had  a wrong choice of sunglasses.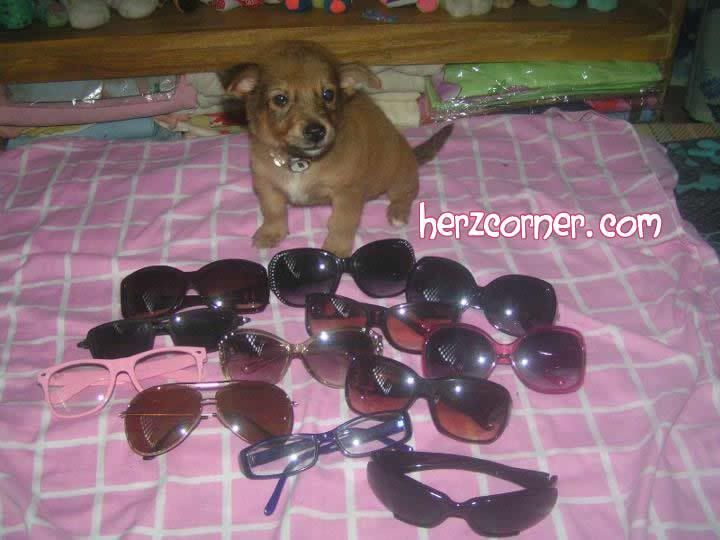 These are the small collection of sunglasses of my sister, she showed it to me asking me if I want one, I told her  I would like too but I am going to look like a bee if I wear it.

I envy her puppy (Jihoo), look at him. He look awesome on this sun and eyeglasses, isn't he?
These sunglasses are cheap only as they are not signature brand, you can usually buy sunglasses in the street for cheaper price.
If you  want $100 in your Paypal OR a $100 Amazon Gift Card you have to join this giveaway. Together with 10 other blogs, the sponsors are  giving away a whopping $100! There are approximately 40 entries available so your chances of winning are great!
Join now by entering through raffle copter do it here.  This is open worldwide and will end of 10/10/11 at 11:59EST (11:59am Philippine time).