As what I have noticed younger men doesn't know how to work with their tie. They have to ask their parents or older people to do it for them.  We have to know that tie is an important part of men dress, a guy wearing a tie looks more attractive because it can easily catch attention. Wearing a tie is not just by putting it around your neck, you have to bind it in a good way, one of the easiest ways is the Kent node where many experts call the Kent-tie knot as "single knot". This is always the right choice for any out fit , you can tie this necktie knot with a very thick fabric tie a bulky knot.
Way back in college I have learned how to be a fashionista (fashionable) with the help of my mother, classmates and friends. They're the one who encourage me to be girly and show my assets, I admit I am a late bloomer. Most of the time I am just inside our house, hiding if I've seen one of my classmates or teacher visit our street or what we called barangay. Despite of my anti-social traits I have dream to be a ramp/fashion model not just locally but internationally. It is my longest dream to visit London where the fashion capital resides.
After our graduation and after I get married we've parted our ways I am now far away from home so my biggest problem nobody will teach me anymore on what to wear and what to buy. Until I stumble to London Fashion,. If you are like me who want to be stylish and fashionable and don't know where to start London Fashion, can help you. They are so much willing to give you the latest fashion tips or information around the world that will help you begin or improve your fashion style. Browsing through their site you can easily find what are you looking for because it is well organized for an internet user like you. So if you are having problems on what to wear in an upcoming parties, you know where to go and who to consult. They will help you look elegant and striking with appeal with their latest fashion trend. Don't worry its free to visit and browse to their fashion collections. They also have a Facebook page that will help you meet with other people with the same fashion as you.
What I hate when we're shopping late at night is we are always on rushed to pick everything we  need. Last Wednesday we shopped late at night for the second time because Pookie bear needs to harvest his farm in farmville and eat his meal before we can go out out and shop. As what it is expected the super market is close to close its doors for shoppers, so we are not just in rush but expedited (lol). As in we are in marathon forget the cart just used your two hands holding the goods, we are almost finished when I remember Pookie bear needs deodorant so we went to back part of the supermarket to find one, the sales ladies told us the counter over there is already closed and we have to use the front counters but we told them we need deodorant, at first they gave us spray but I said stick. So they hand as a Rexona, as what I know. To cut the story short when we went home and set aside all the goods in their respected location I was surprised when I found out that the deodorant is not Rexona but REXENA.  So I look up online to find out if what's the difference about the two, if the second one is imitation or what. As what I have found out  Rexona is the brand in UK, Ireland (including  Philippines and other world wide countries), while Rexena is the brand in Japan and Korea , they both belong to Unilever products.
Living here in Korea is very far different from living in the Philippines, where you can use bar of laundry soap to wash your dishes like plates. Just the other week I went out to shop for a dish detergent  and of course I picked the cheapest one. And this is the first time I used a soap made of rice starch.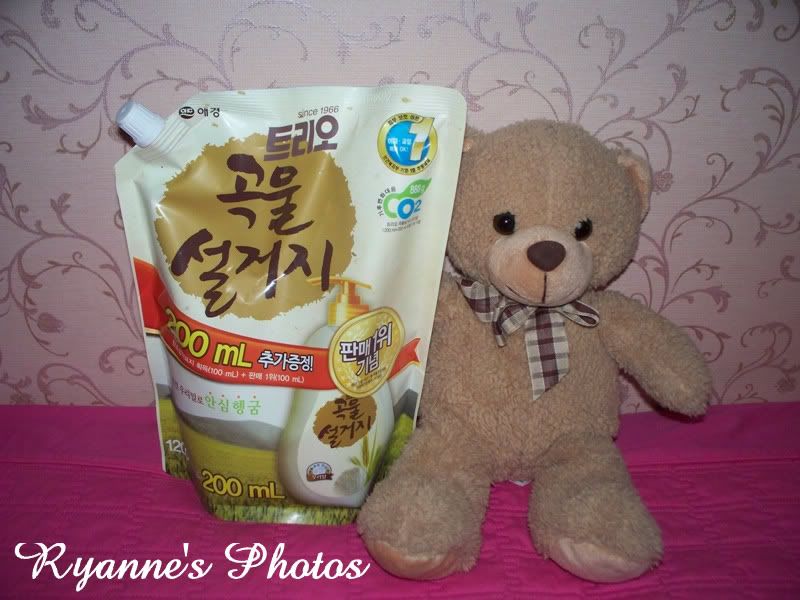 This dish washing soap is good for washing dishes with grease and fat. It can also be used to wash fruits and vegetables and verified by Ministry of Health. It smells like rice though.,